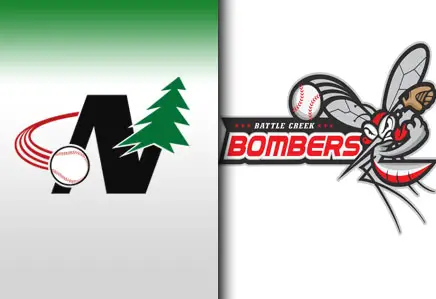 BATTLE CREEK, MI- The Battle Creek Bombers have announced the signings of Arkansas infielders Jordan Farris and Isaac Hellbusch.
Jordan Farris: 6'3" – 205lb, B/R-T/R, INF, Arkansas (Fr.), Ventura, Calif.
Farris enters his freshman campaign with the Razorbacks after a successful four-year career at St. Bonaventure High School in Southern California. He was a three-time All-Conference and All-District selection and was named league MVP in his senior season hitting .432 with five home runs and 40 RBIs.
Farris's 15 career high school homers have him in the St. Bonaventure High School record books with the most in school history. Baseball remained a spring sport for the infielder in high school. He also starred on the St. Bonaventure basketball and football teams, including capturing a state football championship.
Isaac Hellbusch: 6'3" – 210lb, B/R-T/R, UTIL, Arkansas (Fr.), Edmond, Okla.
The versatile Hellbusch is listed as an outfielder, first baseman, catcher, and right-handed pitcher for the Bombers. A 6'3" all-around threat, Hellbusch attended Deer Creek High School in his hometown of Edmond, Oklahoma where he too played football and basketball.
Hellbusch led his school to a state championship appearance in his junior season where he hit .362 with nine home runs and 56 RBIs on the offensive side. In the same season, he went 9-0 with a 2.11 ERA as a pitcher. Hellbusch also received Oklahoma's Ferguson Jenkins award, which recognizes the top five high school baseball players in the state.
The Battle Creek Bombers are members of the Northwoods League that has more teams, plays more games, and draws more fans than any other summer collegiate baseball league in America. The team opens up its 7th season in Battle Creek on Wednesday, May 29th. For information on tickets call (269) 962-0735 or visit BattleCreekBombers.com.