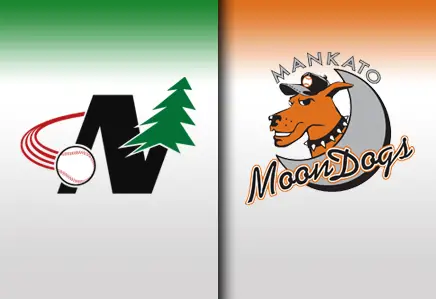 MANKATO, Minn.–The Mankato MoonDogs Baseball Club, a member of the Northwoods League, is excited to announce the commitment of outfielder Quinnton Mack, along with the battery mates, pitcher Trey Higginbotham and catcher Tanner Rust for the 2013 MoonDogs season.
Mack, a 6-foot, 185-pound junior from New Mexico State University is beginning his first season as an Aggie after transferring from the College of Southern Nevada where he played for two seasons. While at CSN, Mack was selected First-Team All-Region in 2012 with a .330 batting average, nine homeruns and 29 stolen bases.
"Mack has both the power and speed to be a huge offensive asset to the MoonDogs this summer," said Field Manager Mike Orchard "He has the ability to not only hit homeruns, but to also steal a lot of bases."
Mack is the son of Quinn Mack, former MLB outfielder and the nephew of Shane Mack, former Minnesota Twins outfielder and key component of the Twins' 1991 World Series Championship team.
Higginbotham, a 6-foot-1-inch, 160-pound sophomore from NMSU, had 15 relief appearances for the Aggies in 2012, where the southpaw posted a team leading 2.08 ERA in 8.2 innings of work, while striking out seven batters.
"We look forward to bringing Trey's velocity to Mankato, he's capable of throwing strikes and that will be huge for the MoonDogs this summer," said Orchard.
Rust, a 6-foot-3-inch, 215-pound junior from NMSU, has started all 12 games for the Aggies so far this spring. The Lakeside, Calif. native is batting .255 while leading the team in runs scored with 10, and at-bats with 47. In 2012, Rust posted a .326 batting average, with 13 doubles and an on-base percentage of .430. The switch-hitting Rust, also posted a .367 batting average along with a .700 slugging percentage as a freshman.
Rust, a once two-sport athlete, also appeared at running back, quarterback and punter for New Mexico State in 2010.
"Tanner's versatility in the infield will come in handy down the stretch this summer," said Orchard. "His age and Division I experience will make him a good leader for the younger players."
The MoonDogs home opener is scheduled for Wednesday, May 29th at 7:05 p.m. against the Rochester Honkers at Franklin Rogers Park. Season tickets are now on sale at the MoonDogs office located at 1221 Caledonia Street. For more information, visit our website www.mankatomoondogs.com or call the MoonDogs office at 507-625-7047.