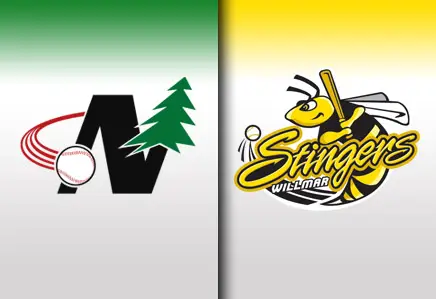 (Willmar, MN) – The Willmar Stingers have recently promoted staff members Nick McCallum and Abby Kremin for the upcoming 2013 season. McCallum, former assistant general manager will take on the role as the team's first general manager.
McCallum has been with the organization since the 2010 inaugural season where he began as an intern. McCallum has worked in the Northwoods League the past four years and began his career with the Brainerd Lakes Area Lunkers in 2009. He's a 2008 graduate of St. John's University in Collegeville, MN, where he earned a degree in Business Management. Following his education at St. John's, he also received a master's degree in Sports Management from St. Cloud State University in the spring of 2010.
McCallum is originally from Hastings, MN and will take on the role of the everyday general manager overseeing the majority of the team's operations. He will work with newly appointed assistant general manager Abby Kremin and co-owners Marc Jerzak and Ryan Voz in preparation of the upcoming season.
"Both Nick and Abby have been essential to the organization and they have both earned the opportunity," Co-owner Marc Jerzak said
Kremin, a former Stingers intern as well, has been promoted to the position of assistant general manager. Kremin, a resident of Raymond, MN is a 2007 graduate of MACCRAY High School. She attended North Dakota State University and earned a degree in public relations and advertising in the spring of 2011. She also has a minor in management communications. She's been involved in the team's success the past two years and looks forward to the new opportunity with the team.
"I'm really excited about this tremendous opportunity and am looking forward to kicking off the season on May 29. We have been working really hard to make 2013 the best Stingers season yet and can't wait for the fans to join us for fantastic baseball and family-friendly entertainment." Stingers Assistant General Manager Abby Kremin said.
The 2013 Stingers Season Opener presented by Marcus Construction against the Thunder Bay Border Cats will be Wednesday, May 29th at Bill Taunton Stadium. Season tickets are currently available for $169 for reserved seat backs and $199 for box seat season tickets. For more information regarding the roster and upcoming season please call 320-222-2010 or visit www.willmarstingers.com. The 2013 season is presented by Charter.