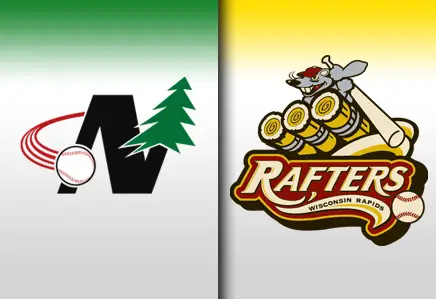 Glaude named Arkansas State MVP as senior in high school
Wisconsin Rapids, WI-Monday, March 25. The Rafters announced a pair of additions to the pitching staff today in sophomore right-hander Griffin Glaude and freshman right-hander Brandon Schmidt. Both players are members of a Central Arkansas Bears squad that currently carries an 18-6 overall record in the Division I Southland Conference.

The Bears are ranked 23rd nationally by Baseball America and are in the Perfect Game Top 25. Central Arkansas is 24th in the USA Today Coaches poll, 27th in the National Collegiate Baseball Writers Association poll, and ranked No. 30 by Collegiate Baseball. The Bears have won consecutive weekend series over No. 3 Mississippi State and perennial powerhouse Southern Mississippi, both on the road. The team opens Southland Conference play at Oral Roberts this weekend in Tulsa.
RHP-Griffin Glaude, 5'10", 175 lbs (L/R) Sophomore, Central Arkansas

Glaude has heard his named called quite often this spring for the nationally ranked Bears. In 11 relief appearances out of the bullpen, Glaude has struck out 13 batters in just 9 innings. He ranks second on the team in appearances while holding opponents to a .257 batting average.
Last season for Central Arkansas, Glaude found himself on the offensive side more than the pitchers mound. In 34 games, 25 starts, he compiled a batting line of .220/.317/.286 while seeing time at second base and shortstop. He also made one appearance on the mound without allowing a hit. This season he has solely appeared as a pitcher for the Bears.
Glaude attended Beebe High School in Arkansas where he was named All-Conference four times as well as All-State on three occasions. In 2010, he was a member of the Class 5A State Championship team and also earned State MVP honors the same year. He is a native of Beebe, Arkansas.
RHP-Brandon Schmidt, 6'3", 190 lbs (R/R) Freshman, Central Arkansas
Schmidt has yet to appear in a game for the deep Central Arkansas pitching staff this spring, but there is plenty of promise for the young hurler that he will have the opportunity to showcase for the Rafters this summer. Schmidt attended Little Rock Central High School where he was an All-Conference honoree in both his junior and senior seasons. He was a participant in the Under Armour Baseball Factory National Tryout event in which he was selected as the top pitcher among all of the players present at the event. Schmidt is a native of Little Rock, Arkansas.
The Wisconsin Rapids Rafters are members of the 16-team summer collegiate Northwoods League. The Northwoods League has more teams, plays more games, and draws more fans than any other Summer Collegiate League in North America.

In 2013 the Northwoods League will celebrate its 20th season. Opening Day at historic Witter Field is scheduled for Wednesday, May 29th at 7:05 pm against the Lakeshore Chinooks. Reserve your 2013 ticket packages today by calling 715-424-5400, or in person by stopping by the Rafters office at Witter Field. Available quantities of all promotional giveaways will vary from event to event and will be available on a first come, first serve basis. The best way to guarantee giveaway items is to purchase a 9-Game Package. The offseason office hours are Monday through Friday from 9am-5pm. For more information, visit www.raftersbaseball.com.