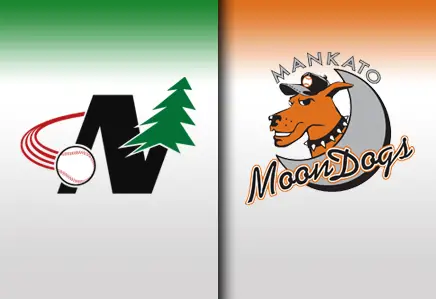 MANKATO, Minn.–The Mankato MoonDogs Baseball Club, a member of the Northwoods League, is excited to announce the commitment of pitchers Jess Amedee and Alex Estrella, along with outfielder Timothy Arakawa for the 2013 MoonDogs season.
Amedee, a 6-foot-1-inch, 205-pound sophomore of Central Arizona College is beginning his first season as a Vaquera after transferring from the University of Northern Colorado where he pitched a freshman leading 59.2 innings. While at Northern Colorado, Amedee accumulated the second most wins on the team with five.
"Jess is an upper 80's guy that throws a really nice breaking ball and his ability to throw strikes will serve as an asset to the MoonDogs pitching staff," said Field Manager Mike Orchard.
The right-hander has signed a letter of intent to play for the University of Texas-Arlington this fall.
Estrella, a 5-foot-11-inch, 155-pound sophomore attending the University of New Mexico, started his career with the Lobos in a relief position with six appearances as a freshmen. The left-hander finished his first season with a 2.89 ERA after 9.1 innings of work and allowing only one run in his last eight innings pitched. As a sophomore, Estrella is posting a 3.78 ERA after 16.2 innings completed, striking out 11 batters.
"Alex is a versatile pitcher that comes from a good program and he should see 30-40 games this spring, which will help bring confidence to the MoonDogs," said Orchard.
Arakawa, a 5-foot-8-inch, 170-pound sophomore is in his second season at Yavapai College (Prescott, Ariz.). The Honolulu native was named Second Team All-Conference his freshmen season after maintaining a .355 batting average, and recording 3 home runs, 35 RBIs and 31 stolen bases out of 37 attempts. The left-hander is currently hitting .345 with one home run and 17 RBIs for the Roughriders this spring.
"Tim is tough to strike out and he's an athletic runner that has potential to steal a lot bases for the MoonDogs this summer," said Orchard. "He's capable of playing both the outfield and infield, which provides flexibility to our defense."
Arakawa has signed a letter of intent to play for Oklahoma State University this fall.
The MoonDogs home opener is scheduled for Wednesday, May 29th at 7:05 p.m. against the Rochester Honkers at Franklin Rogers Park. Season tickets are now on sale at the MoonDogs office located at 1221 Caledonia Street. For more information, visit our website www.mankatomoondogs.com or call the MoonDogs office at 507-625-7047.