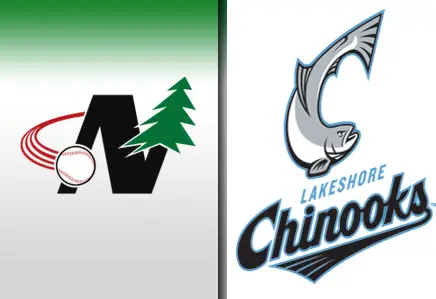 The Lakeshore Chinooks wrap up their player announcements for the 2013 roster with the signing of seven additional players this week.
First up is Brant Valch from the Eastern Illinois University. Valach is teammates with returning Chinooks Pitcher of the Year Joe Greenfield. Brant is a sophomore third baseman and in 2012 was named to the Louisville Slugger Freshman All-American team.
From Jefferson College, Kyle Bouman will be joining the 2013 Chinooks roster. Bouman is a sophomore left-handed pitcher. Kyle is a native of St. Louis and played one year for the Wichita State Shockers.
Wichita State is gearing up for their NCAA Final Four appearance this weekend, but two Shockers from the diamond will be calling Kapco Park their home this summer. Mikel Mucha is a sophomore and will be joining the outfield platoon. Mucha was heavily recruited by a number of universities including New Mexico State and FSU. Erik Harbutz is a redshirt junior and will be sharing time at third base this season. Harbutz's 2011 season was cut short after suffering a torn labrum.
St. Cloud State will be sending one player to Lakeshore this summer. Travis Enger is a redshirt junior and will be spending time behind the plate catching.
From Heartland Community College, Mason Snyder will be joining the Chinooks infield. Snyder is a sophomore shortstop with the Hawks.
Rounding out this season's player announcements is Nathan Hoffmann from Madison College. Hoffmann is a freshman right-handed pitcher and a native of Sun Prairie, Wisconsin.
The players announced over the past seven weeks will join the new Chinooks manager Eddy Morgan this summer as they begin their second season in the Northwoods League. The home opener will take place May 30th at 6:35pm against the Wisconsin Rapid Rafters. For everything Chinooks, make sure to visit lakeshorechinooks.com and follow us on Facebook and Twitter.