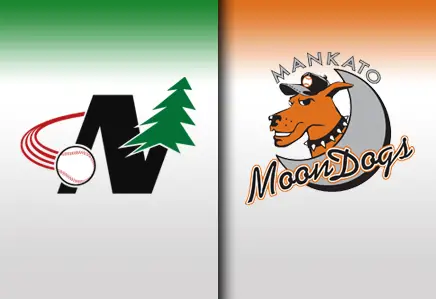 MANKATO, Minn.-The Mankato MoonDogs Baseball Club, a member of the Northwoods League, is proud to announce the commitment of pitchers Mike Nowak and Jesse Harbin, as well as outfielder Zach Zehner for the 2013 MoonDogs season.
Nowak, a towering six-foot-four-inch, 195-pound left-hander accumulated a 7-4 record with a 3.88 ERA on the mound with Shasta Community College (Redding, Calif.) this spring. Nowak, whose play earned him All-Conference honors his freshman year, currently leads the Knights' roster, and the Golden Valley Conference with two shutouts. Shasta Head Coach Brad Rupert boasts that Nowak "will eventually go down as one of the best pitchers in the history of Shasta College Baseball."
"Nowak has opening rotation potential," said MoonDogs Field Manager Mike Orchard. "We are really excited to see what he can do for us this summer."
Zehner brings to Mankato an imposing six-foot-four-inch, 210 pound frame. He entered his sophomore year at Santa Barbara Community College as a preseason All-American. Through 32 games played this spring Zehner has not disappointed, batting .318 with two home runs and 37 RBIs, both tops on the Vaqueros. The San Diego native finished his freshman year with a .312 batting average and three home runs.
"Zach brings a real athletic body to the team," said Orchard. "He's a guy who can play all three outfield positions, run, hit- he can really be a force for us."
Harbin, a right-hander measuring in at five-foot-ten-inches and 175 pounds, is having a successful freshman campaign at the University of Arkansas-Little Rock. In 14 appearances and 22.2 innings pitched, Harbin has compiled a 2.78 ERA for the Trojans, while striking out 24 batters in the process.
"With Jesse you get a guy who can pitch his way out of a jam," Orchard said. "He can throw a lot of strikes as well as force a lot of ground balls which lead to outs."
The MoonDogs home opener is scheduled for Wednesday, May 29th at 7:05 p.m. against the Rochester Honkers at Franklin Rogers Park. Jeff Reardon will be the Opening Night Guest presented by Wealth Enhancement Group, along with a fireworks extravaganza. Season tickets are now on sale at the MoonDogs office located at 1221 Caledonia Street. For more information, visit our website www.mankatomoondogs.com or call the MoonDogs office at 507-625-7047.