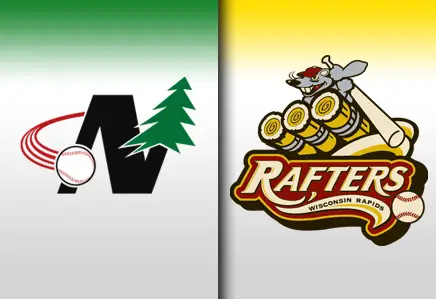 Freshman hurler Freese a 2011 34th Round Draft Pick of Chicago White Sox
Wisconsin Rapids, WI-Monday, May 6th. The Rafters have added a pair of pitchers and a shortstop to the roster it was announced today by the front office. Freshman right-handed pitcher Dakota Freese (Des Moines Area Community College), left-handed pitcher Greg Maisto (Texas A&M) and shortstop Tyler Leffler (Bradley University) are set to make their Wisconsin Rapids debuts this summer. With the additions the 30-man roster now stands at 27 players.
RHP-Dakota Freese, 6'4", 190 lbs (R/R) Freshman, Des Moines Area Community College
Dakota Freese is in his first season with Des Moines Area Community College and has posted impressive numbers for his team so far this spring. In 59.2 innings pitched, he has recorded 89 strikeouts while carrying a 2.72 ERA. He has a 7-1 record in 12 games started for Des Moines Area Community College.
Freese attended Washington High School in Cedar Rapids, Iowa, where he was an All-State selection, Under Armor All-American, and Player of the Year. He was selected in the 34th round of the 2011 Major League draft by the Chicago White Sox, but did not sign a pro contract. He originally enrolled at LSU Eunice, one of the top junior college baseball programs in the county, before returning to Iowa.
LHP-Greg Maisto, 6'2", 175 lbs (L/L) Freshman, Texas A&M
Maisto will see his first action of the season when he arrives in Wisconsin Rapids this summer, after red-shirting his true-freshman season.
Maisto attended Southlake Carroll High School where he received All-District, All-Area, and North Texas High School All-Star Game honors during his prep career. As a senior, he posted a 9-1 record with a miniscule 1.46 ERA, while limiting opponents to a .139 batting average. In 76.2 innings pitched he allowed only 37 hits while striking out 113 batters. Even more impressive, Maisto threw four one-hitters his senior year, including one in both the third and fifth rounds of the playoffs.
SS-Tyler Leffler, 6'2", 185 lbs (R/R) Freshman, Bradley
Leffler is off to an impressive start in his true freshman season. He has appeared in 40 games (38 starts) at shortstop for the Braves while posting a .306 batting average and clubbing 11 doubles and 22 RBIs. He ranks third on the team in both batting average and on-base percentage.
Leffler attended Benton Consolidated High School in Illinois where he was a three-sport athlete. During the 2011 calendar year, Leffler helped Benton to baseball and basketball regional championships as well as the second round of the 3A football state playoffs. He was named a two-time All-South performer on the football field and baseball diamond by the The Southern Illinoisan Newspaper. As a sophomore, Leffler hit .480 with seven home runs, 39 RBIs and 13 stolen bases. He followed that performance up with a .381 average, four home runs, 31 RBIs and 10 steals as a junior. Leffler is a native of Benton, Illinois.
The Wisconsin Rapids Rafters are members of the 16-team summer collegiate Northwoods League. The Northwoods League has more teams, plays more games, and draws more fans than any other Summer Collegiate League in North America. In 2013 the Northwoods League will celebrate its 20th season. Opening Day at historic Witter Field is scheduled for Wednesday, May 29th at 7:05 pm against the Lakeshore Chinooks. Reserve your 2013 ticket packages today by calling 715-424-5400, or in person by stopping by the Rafters office at Witter Field. Available quantities of all promotional giveaways will vary from event to event and will be available on a first come, first serve basis. The best way to guarantee giveaway items is to purchase a 9-Game Package. The offseason office hours are Monday through Friday from 9am-5pm. For more information, visit www.raftersbaseball.com.