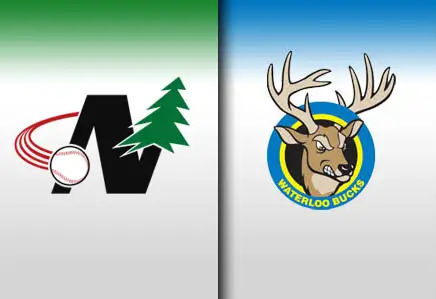 Waterloo, IA – The Waterloo Bucks, a member of the Northwoods League, have announced the signing of catcher/first baseman Kyle Pollock to their roster for the 2013 season. Pollock, a sophomore at the University of Evansville, will join fellow Aces Kevin Kaczmarski and Jake Mahon on Waterloo's roster for the team's 19th season.
This season for Evansville, Pollock is hitting .228 with 16 RBI in 52 games. The 6'0", 195-pounder owns a .325 on-base percentage to go along with 41 hits on the season. "Kyle can play at first base and can catch for us," said Bucks general manager Dan Corbin.
"He's got a plus-arm behind the plate and plays well defensively. He's a right-handed power bat. He had a great summer last year in the Great Lakes League and we look forward to him wearing Bucks pinstripes this summer."
In 2012, Pollock played for the Stark County Terriers of the Great Lakes Summer Collegiate League where he led the league in batting with a .424 average. The Canton, Ohio native finished the season with eight home runs and 20 RBI in 30 games and was named an All-Star.
Last season for Evansville, Pollock played in 59 games, starting 58 as designated hitter. Pollock led the team with five home runs, hitting nine doubles with 27 RBI. Born August 15, 1992, Pollock attended Westerville Central High School where he hit .505 with a .829 slugging percentage throughout his prep career. Pollock was named first team All-State and All-District as a senior.
In other news, the Bucks have waived right-handed pitcher Jake Thompson of Western Kentucky University.
The Bucks will open the 2013 season at home versus the St. Cloud Rox on May 29. Season tickets, group outings, and single-game tickets are currently on sale. For more information, call the Bucks' Ticket Line at (319) 232-5633. Fans are encouraged to stay in touch with the Bucks in the off-season by utilizing their website at www.waterloobucks.com.