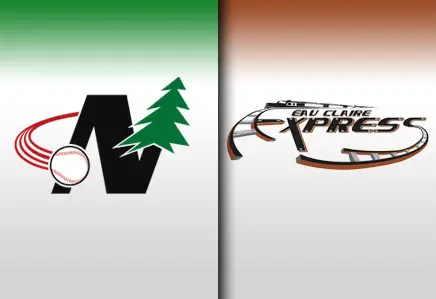 Jake Cole, Ed Brandsema will toe the rubber in 2013
EAU CLAIRE, Wis. – May 15, 2013 – Express Field Manager Dale Varsho announced today the addition of two right-handed pitchers from two institutions connected to the Express for the first time.
Jake Cole, a 6-foot-4 and 245-pound hurler from Tucson, Ariz., is in his sophomore season for his hometown Pima Community College. Last year as a freshman for the Aztecs, Cole threw 29 innings and wound up with a 0-1 record and a 3.71 ERA. He struck out 14 batters opposed to only nine walks. This season, his workload on the mound has increased dramatically. He is the owner of a 5-3 record with nine starts under his belt in 16 appearances. In 69.1 innings pitched, he has 67 strikeouts opposed to only 26 walks.

Joining Cole is right-handed pitcher Ed Brandsema, a 6-foot, 175-pound junior from the University of Montevallo (Ala.). The Orlando, Fla., native has appeared in 18 games while starting 12 of them. He holds a 4-5 record and has 38 strikeouts in 72.2 innings pitched. He has helped lead the Falcons to a 34-20 record. Brandsema spent the first two years of his college career as a reliever before converting to the starting rotation. As a freshman, he appeared in 22 games and held a 2.91 ERA.
With the addition of Cole and Brandsema, the 2013 Eau Claire roster sits at 29, with one more player to be released next week. All teams in the Northwoods League will have 30 players active at all times for the first time since the 2007 season. Varsho said the switch to a larger active roster is a big asset to his ballclub.

"Moving the roster to 30 players full time is huge," Varsho said. "It allows us to have more flexibility throughout the whole league, making more pitching changes and providing more depth throughout the roster."
With the spring season wrapping up for most college teams, be sure to check the Express roster page to follow how each player is doing in their respective spring seasons. Links to each players updated spring statistics can be found in the bio section of their player page.

The Express begin their ninth season of Northwoods League play on May 29 in Madison to take on the Mallards. Eau Claire will play its Carson Park opener on June 2 against the Wisconsin Woodchucks. First pitch for that contest is set for 5:05 p.m.

The Northwoods League has more teams, plays more games and draws more fans than any other collegiate baseball team in North America.