Blue Anchors Hire Hughson as General Manager
November 13, 2013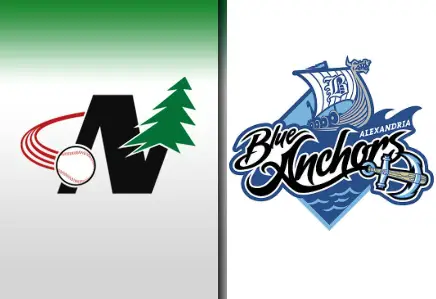 G.G. Freitag also hired as Director of Sales and Marketing for the organization
Alexandria-MN – The Alexandria Blue Anchors, a member of the Northwoods League, have announced the hiring of Kendall Hughson as General Manager/Director of Baseball Operations. Hughson will join the organization effective immediately.
Hughson, is a graduate of Minnesota State University, Mankato and is originally from Apple Valley, MN. This will be his 4th season in the Northwoods League, with his previous three seasons being spent with the Waterloo Bucks as their Assistant General Manger/Director of Stadium Operations.
"I'm thrilled to be given the opportunity to take over as the General Manager of the Blue Anchors and cannot wait to start working towards bringing the Northwoods League title to Alexandria," said Hughson.
"Kendall's previous experience along with his vision is exactly what we were looking for and we are excited for the upcoming season" says Scott Allen, one of four owners of the team "His experience within the league and knowledge of the day-to-day operations make him the right fit to lead the team."
The Alexandria Blue Anchors have also announced the hiring of G.G. Freitag as the Director of Sales and Marketing for the organization. Freitag will join the organization effective immediately.
Freitag, a longtime resident of the area, was previously employed by the Alexandria Chamber of Commerce as the Member Relations Manager. Her ability to form relationships and her extensive marketing knowledge will be valuable in the overseeing of the organization's sales and marketing.
"Coming onboard with the Blue Anchors is truly an exciting endeavor! Having this organization in our own community is just another reason why we all love living and vacationing here. I couldn't be more proud to represent the team, the owners, the Northwoods League and our Field Manager the great Twins player, Al Newman,"said Freitag.
"G.G. has been a fixture in the community and we could not be happier to have her join our team," says Shane Schmidt, one of four owners of the team. "The Anchors want to build consistency in the community and she fits the mold to help us do that."
The Alexandria Blue Anchors are a member of the finest developmental league for elite college baseball players, the Northwoods League. Playing its 21st season of summer collegiate baseball, the Northwoods League is the largest organized baseball league in the world with 18 teams, drawing significantly more fans, in a friendly ballpark experience, than any league of its kind. A valuable training ground for coaches, umpires and front office staff, more than 115 Northwoods League players have advanced to Major League Baseball, including MLB All-Stars Max Scherzer (DET), Chris Sale (CWS), Jordan Zimmermann (WAS), Curtis Granderson (NYY), Allen Craig (STL) and Ben Zobrist (TB). All league games are viewable live and free of charge via the Northwoods League YouTube channel.