July Has Begun
July 1, 2010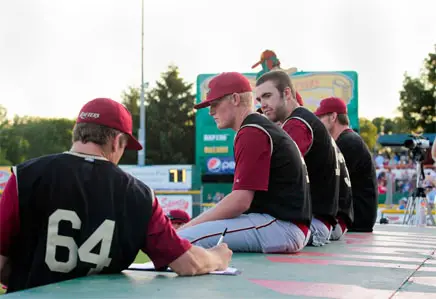 Recap of Thursday's Action
Brainerd 3, Thunder Bay 2
The Lunkers three run second inning was too much for the Thunder Bay Border Cats to come back from. Brainerd first basemen Russ Hopkins (Rutgers) was 1-for-3 with one run scored and two RBI. The day game only saw eight hits due to some great pitching by both staffs. Lunkers Aaron Sapp (Ithaca) earned the win in relief throwing 2.0 innings of hitless baseball. Thunder Bay starter Eric Brown took the loss throwing 6.0 innings while giving up all three runs.
Duluth 15, Alexandria 7
Duluth scored in six straight innings to go ahead 15-7 and earn the win Thursday night at Knute Nelson Memorial Park. The Huskies had four players with multi-RBI games led by Zeke DeVoss (Miami) who was 2-for-3 with three runs scored and four RBI. Right fielder Pete Cappetta (Illinois) hit a three-run homer to distance the Huskies from the Beetles. The Beetles Patrick Biondi (Michigan) was 1-for-3 with a double and two RBI.
Eau Claire 3, La Crosse 2
Express starter Dietrich Enns (Central Michigan) and Loggers starter Tony Mueller put on a show for the fans in attendance in Eau Claire. Enns earned the win throwing 8.0 innings of six hit baseball while Mueller took the loss giving up all three runs due to some defensive miscues. The top six hitters in the Express line-up were hitless, but Nate Baumann (Augustana) had two hits and two RBI from the eight spot in the line-up.
Wisconsin 5, Madison 1
Wisconsin took a 3-0 lead after the first and never looked back against the Mallards. The Woodchucks had three players with multi-hit games led by Ryan Fleming who was 2-for-4 with two RBI. Woodchuck's starter Nick Capito (Santa Barbara) threw 7.2 innings of four hit baseball while only giving up one earned run. Madison's Harold Riggins (NC State) continued his hot hitting with a 2-for-4 day increasing his average to .380.
Green Bay 6, Battle Creek 5
Green Bay's six run fourth inning was too much for the Bombers to handle and took the loss 6-5 at Joannes Stadium. Bullfrog catcher Beau Fraser (Portland) used a single and home run to drive in three runs. Bomber leadoff hitter Navarro Hall (Kentucky) had a great game going 3-for-5 with one run scored. Tim Shibuya (San Diego) earned the win in relief throwing 4.1 innings of scoreless baseball. Ben Versnik (Wisconsin Whitewater) earned the save throwing the final inning while giving up no runs or hits.
Wisconsin Rapids 1, Waterloo 0
For the second time in a week the Wisconsin Rapids Rafters won a 1-0 contest with their third shut-out of the season Thursday night against the Waterloo Bucks. The action of Thursday's pitcher's duel came to a head in the top of the ninth with the Rafters leading 1-0 and looking for the final three outs. Starter Matt Baudino (La Verne) ran his scoreless inning streak to 12 with 6.0 innings of two hit baseball, notching four strike outs. Baudino walked four on the evening but had success pitching to contact. Brian Embery (Wayland Baptist) gave the Rafters their slimmest of margins with an RBI single in the second inning which was all the Rafters would need.
Willmar 10, Rochester 4
One night removed from a crisp 6-2 victory for the Stingers, Willmar's offense continued to hum along, racking up fifteen hits in a convincing 10-4 win over the Rochester Honkers at Mayo Field on Thursday night. It was a balanced effort offensively for Willmar, as only two Stingers failed to register at least one hit. Leading the charge was right fielder Jordan Smith (St. Cloud State. His 5-for-5 night netted him two more RBI and he scored three runs. Eduardo Gonzalez (Alcorn State) was also impressive going 3-for-5 with a pair of doubles, two RBI and three runs of his own. David Carroll (Western Nevada) was solid on the mound again for Willmar netting his first win of 2010 thanks to 6.1 innings of four run, seven hit ball.
St. Cloud 12, Mankato 6
The River Bats combined to score ten runs in the fifth and sixth innings to beat the MoonDogs of Mankato 12-6. St. Cloud used six doubles on the night to go with seven runs batted in. First baseman Joey Benke (St. Cloud State) was 2-for-4 with two doubles, two runs scored and two RBI. River Bats starter Andy Berry (West Virginia) earned the win throwing 5.0 innings while striking out five MoonDogs. The MoonDogs Robbie Robinson was 3-for-5 with three RBI.