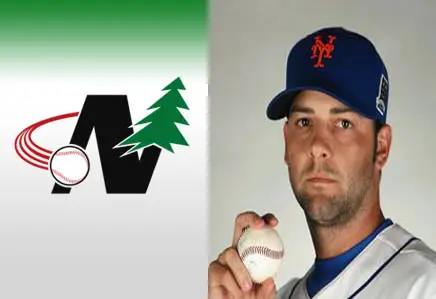 The New York Mets called up former Brainerd Blue Thunder pitcher Dillon Gee to start Tuesday night. Gee faces the Washington Nationals as he replaces Mets ace Johan Santana who is sidelined with a pectoral sprain. The promotion of the 21st round pick from the 2007 Draft is partially due to Santana's injury, but more to do with his outstanding numbers in Triple-A.
The 6'1'' 200-pound righty had an injury riddled 2009 as he partially tore his labrum, but bounced back in 2010 with his best season in the Minor Leagues. Gee was 13-8 in Triple-A Buffalo with a 4.96 ERA and a franchise record 165 strikeouts which leads the International League. With four years of Minor League experience under his belt, the former NWL pitcher comes to the Mets with 425.0+ Minor League innings and 27 wins.
The former 2005 Brainerd Blue Thunder pitcher came to the NWL from Texas-Arlington. Gee's record with Brainerd was not overly impressive (3-7) with the Blue Thunder, but his 2-to-1 strikeout-to-walk ratio was. His numbers at Texas-Arlington (UT-A) display his ability much better than his numbers with the Blue Thunder. He ranks 2nd on the all-time innings pitch list with 298.1, 5th in strikeouts (198) and 8th in appearances (58) at UT-A. His 111.2 innings pitched in 2007 ranks 4th on the single-season list, while his 96 strikeouts are tied for 3rd.
Gee will face another late season call up as he faces Washington Nationals Yunesky Maya. The right handed Maya hails from Cuba and starts for the Nationals after two starts in Triple-A Syracuse. Gee becomes a part of Mets history as it will be the 1st time that both teams' starting pitchers will be making their Major League debuts (Elias Sports Bureau).
Follow Dillon Gee as he becomes the 72nd NWL Alumni to make it to the Major Leagues. The Northwoods League has more teams, plays more games, and draws more fans than any Summer Collegiate Baseball League in North America.