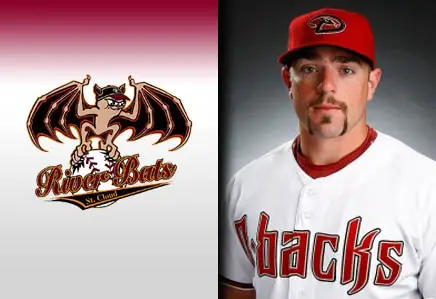 Former St. Cloud River Bat Konrad Schmidt (Nevada-Reno) was called up by Arizona Diamondbacks Interim Manager Jerry Dipoto Monday night. The undrafted Schmidt whose Minor League season ended Sunday night as the Double-A Mobile BayBears were eliminated from the Southern League playoffs walked in his lone plate appearance Monday night.
The 6'0'' 225-pound catcher walked off of Cincinnati Reds reliever Logan Ondrusek. The 2007 free agent signee had a big year in Double-A Mobile and was an All-Star this season. Schmidt hit .315 for the BayBears with 11 homers and 65 RBI.
Since signing with Arizona in 2007, Schmidt has a .298 batting average in over 1,300 Minor League at-bats and has driven in 180 runs. He has 90 doubles, 29 homeruns and 164 runs scored while playing in Yakima (A), South Bend (A), Visalia (A), Reno (AAA) and most recently Mobile (AA).
The 26 year old played two seasons in the Northwoods League for the St. Cloud River Bats in 2003 and 2005. While in the Northwoods he hit .234 with 19 RBI in 2003, but had a much more successful 2005 as he hit .278 with 20 RBI and 14 extra-base hits.
Schmidt, who will be wearing #33 with the Diamondbacks, adds to the total of St. Cloud River Bats making the Major Leagues. The River Bats currently lead the NWL with 12 former St. Cloud players making it to the big leagues. Schmidt is the 45th former Northwoods League player to reach the big leagues in 2010 and 73rd in league history.
Follow Konrad Schmidt at www.arizonadiamondbacks.com. Northwoods League has more teams, plays more games, and draws more fans than any Summer Collegiate Baseball League in North America.