GM Kern Earns Ballpark Digest Executive of the Year Award
October 20, 2010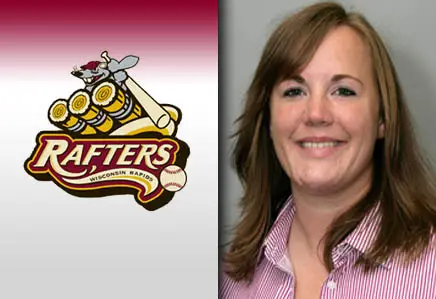 Ballpark Digest announced yesterday that Liz Kern, General Manager of the Wisconsin Rapids Rafters, is a recipient of their Executive of the Year Award. Each year Ballpark Digest honors noteworthy accomplishments in the baseball industry, whether it is Major League Baseball, Minor League Baseball, independent baseball, summer-collegiate baseball, or college baseball. The awards given out cover both individual as well as team accomplishments. This is the fourth season for the Ballpark Digest Awards.
Kern recently completed her first season as General Manager of the Rafters. Under her leadership the Rafters drew a total of 46,515 fans (1,368 per game) ranking the team 7th out of 16 teams in League attendance. Her efforts also helped transform Historic Witter Field into one of the most beautiful venues in the entire Northwoods League. Kern guided numerous endeavors to improve the existing facility including the installation of 234 Milwaukee County Stadium seats into the grandstand, revamping the entire outfield wall, re-siding the concessions stand, painting the front entrance and clubhouses, and adding the "Rafthouse" a new log cabin team shop down the third baseline.
"This is exciting for our organization and to see Liz get national recognition shows how special the 2010 season was for the Rafters and the Wisconsin Rapids community," said Rafters President Vern Stenman.
Prior to leading the Rafters, Kern had worked for the Madison Mallards since 2004 and was responsible for overseeing their ticket operation and customer service department. Although the first year in Wisconsin Rapids presented a few challenges and new responsibilities, Kern relished the opportunity to capture the support of an entire community.
"It is a privilege to receive this award. It has been a great inaugural season in Wisconsin Rapids and I thank my staff for their hard work and the fans for all the support," said Kern. "To be honored along with Dannemiller and Venuto is amazing. I look forward to working with the people of Wisconsin Rapids to make the next season even better."
Kern received her bachelor's degree in Sport Management and Business Administration from the University of Wisconsin-La Crosse in 2006, while also competing on the softball team. She is originally from Beaver Dam, Wisconsin and currently resides in Wisconsin Rapids.