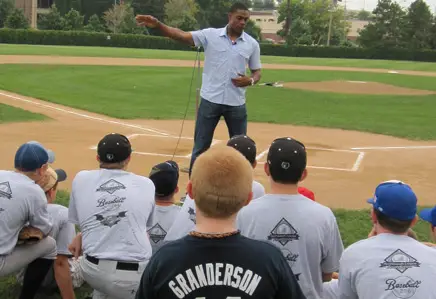 Former Mankato Masher and current member of the New York Yankees, Curtis Granderson, has been making key contributions during the 2010 Major League Baseball (MLB) playoffs. Granderson, a speedy outfielder from the University of Illinois-Chicago, helped lead the Yankees to an American League East Division championship while playing in 136 games with a .247 batting average and 25 home runs.
Granderson skills have shined through in the postseason. The left-handed hitting center fielder made an impact for the Yankees in the American League Division Series (ALDS) against the American League Central Division champion Minnesota Twins. In Game 2 of the ALDS, he went 3-for-4 with two RBI and hit 5-for-11 with three RBI in the three-game sweep of the Twins.
The 2009 Major League Baseball All-Star is currently in the American League Championship Series (ALCS) with the American League West champion Texas Rangers. Granderson is having a productive ALCS while hitting .333 with three RBI and a .666 on-base percentage. The Yankees travel to Arlington, Texas for game six of the ALCS on Friday, October 22nd.
In addition to making important contributions on the baseball field, Granderson can be found making contributions in the community. In 2008 he founded the Grand Kids Foundation, an educational-based organization. Grand Kids mission is to "enforce educational initiatives to youth, and to help bring the sport of baseball back to the nations inner cities."
Through his work in the community he has earned respect by representing Major League Baseball as an ambassador for MLB International which focuses on the growth of baseball and promotion of Major League Baseball worldwide. MLB Commissioner Bud Selig wrote in a letter to Curtis Granderson, "There are so many fine young men playing Major League Baseball today, but I can think of no one who is better suited to represent our national pastime than you."
In addition to representing the MLB, Granderson was also named the "face" of the Northwoods League. Due to his work in the community, Granderson has served in various philanthropic and alumni relation efforts within the Northwoods League.
Continue cheering for this humanitarian, former Mankato Masher and current New York Yankee in the 2010.
The Northwoods League is a summer baseball league composed of 16 teams with top college players from across the United States. With a family oriented atmosphere, the Northwoods League has more teams, plays more games, and draws more fans than any other summer Collegiate Baseball League in North America. Franchises are located in Minnesota, Michigan, Wisconsin, Iowa and Canada. More information can be found at www.northwoodsleague.com