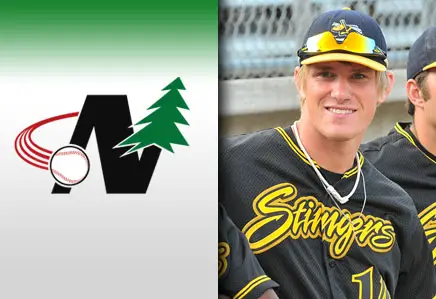 Baseball America, a leader in baseball analysis and statistics, recently named Jordan Smith of St. Cloud State as the Baseball America 2011 NCAA Division-II pre-season Player of the Year. The Willmar native and former Willmar Stinger had an outstanding 2010 at both the NCAA and Northwoods League levels.
The athletic outfielder had a huge spring with the St. Cloud State Huskies who made the 2010 NCAA Division-II Central Regional in Farmington, New Mexico. Smith started in all 58 games this past spring for St. Cloud while setting team records with a .457 batting average (9th in the nation), 96 hits (8th in the nation), 15 home runs, 78 RBIs (15th in the nation) and 174 total bases (6th in the nation).
As a member of the Willmar Stingers in their inaugural NWL season, Smith exploded onto the Northwoods League scene as a five-tool player. The Stinger clean-up hitter was a Northwoods League All-Star and led the Stingers in on-base percentage, slugging percentage, RBIs, triples and home runs.
Smith and St. Cloud State enter the 2011 season ranked #40 in Collegiate Baseball's pre-season Division-II poll. The 2010 Rawlings/American Baseball Coaches Association Third Team All-American was also named Northern Sun Intercollegiate Conference pre-season Play of the Year. Smith's collegiate season opens in Russellville, Arkansas on February 12th against Arkansas Tech.
Former La Crosse Logger, Tony Mueller (Winona State), was also featured in the article as a NCAA Division-II pre-season First Team All-American. As a dual threat in the outfield and on the mound, the La Crosse native made the All-American team as a utility player after hitting .439 and posting a 6-1 record with 2 saves.
Check out www.baseballamerica.com or their print issue as the former Willmar star is featured.
The Northwoods League has more teams, plays more games, and draws more fans than any Summer Collegiate Baseball League in North America.