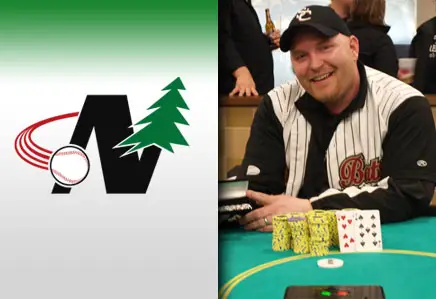 The Northwoods League Foundation hosted a Celebrity Poker Tournament at Canterbury Park in Shakopee, MN on Monday night. The night consisted of a poker tournament, silent auction and social hour filled with various sports celebrities, Northwoods League (NWL) team employees and NWL fans.
Individuals in attendance were treated to a once in a lifetime experience to interact and also play poker with celebrities like Paul Allen (KFAN radio), Jason Senti (professional poker player), Joe Vavra (Minnesota Twins hitting coach), Taylor Bills ('True Beauty' winner), Larry Rose (NFL referee), Phil Mackey (1500 ESPN) and Danny Worth (Detroit Tigers).
The Northwoods League Foundation is proud to announce that a $10,000 donation will be made to 'GrandKids'. 'GrandKids' is a foundation named after Curtis Granderson, current New York Yankee outfielder and former NWL star, which focuses on improving the educational experience for youth nationwide as well as helping to re-establish baseball opportunities for inner city youths.
The winner of the poker tournament, Brandon Gunderson, will golf with former Minnesota Twins pitcher Bert Blyleven in Fort Myers, FL on March 22nd. Gunderson will appear with Blyleven on the Fox Sports North telecast of the Minnesota Twins spring training game against Baltimore on March 23rd. These experiences are in addition to the $2,500 top prize and championship bracelet.
The events top five finishers were:
1. Brandon Gunderson
2. Sean Kruger
3. Larry Rose
4. Keith Kubisiak
5. Adam Totushek
The silent auction featured items from former Northwoods League stars and local sports celebrities. Auction items consisted of the following: Curtis Granderson signed jersey/bat/baseball, dinner with current Chicago White Sox Chris Sale, current Detroit Tiger Danny Worth signed bat, current Tampa Bay Ray Ben Zobrist signed cleats and batting gloves, Paul Molitor signed bat/baseball, and a Jim Thome signed baseball.
Follow the Northwoods League at www.northwoodsleague.com this off-season and also as the NWL season opens on June 1st. The Northwoods League has more teams, plays more games, and draws more fans than any Summer Collegiate Baseball League in North America.