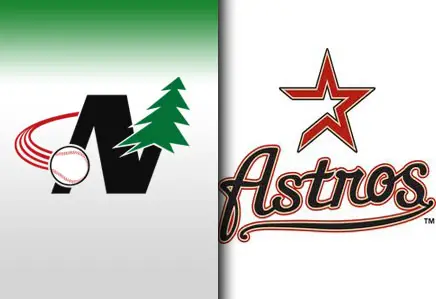 In today's segment of 'NWL Alumni in Spring Training' we will focus on the Houston Astros franchise.  The Astros currently have 10 plus former NWL players in their organization with Clint Barmes and Mark Melancon in the Major Leagues.  These two players are currently on the 40-man roster for the Astros and are expected to help get the Astros to the top of the National League Central Division. 
Clint Barmes – The slick fielding utility man is expected to start at shortstop for the Astros and will be the leader of a totally rebuilt Houston infield in 2011.  Barmes, who has played five positions in the MLB, will lead a defense that finished in the bottom half of the National League in fielding percentage.  The 10th round pick in 2000 has a career .975 fielding percentage in eight season with the Colorado Rockies.  The Indiana State University product played three seasons in the Northwoods League, one for Kenosha (1998) and two for Waterloo (1999-2000).  Barmes has a career .254 MLB batting average with 582 career hits.  Barmes earned consistent playing time with the Colorado Rockies during the past three seasons as a 2nd baseman instead of a shortstop because of the emergence of MLB All-Star Troy Tulowitzki.  Barmes was traded for RHP Felipe Paulino in November of 2010. 
Mark Melancon – The former Duluth Huskie was drafted in the 9th round of the 2006 by the New York Yankees.  A Colorado native, Melancon arrived late to the Huskies in 2004 as his University of Arizona Wildcats were in the NCAA College World Series.  Although a late start, he made six starts and threw 37.0 innings with a 1.95 earned run average.  Melancon spent the majority of 2008 thru 2010 in Triple-A with the Scranton/Wilkes –Barre Yankees of the International League and has a career 19-3 MiLB record with 15 saves.  As a hard throwing righty he is expected to compete for the set-up role throwing the 7th or 8th inning before closer Brandon Lyon who had 20 saves in 2010.  The right handed pitcher was traded from the Yankees to the Astros for Lance Berkman in July of 2010. 
Check in Thursday as we focus on the Oakland Athletics and Josh Willingham formerly of the Austin Southern Minny Stars.