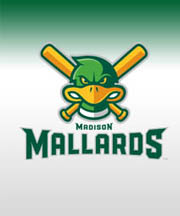 The Mallards are excited to announce the team has signed sophomore outfielder Niko Fraser and sophomore pitcher Kyle Webb, a pair of teammates from Elon University located in Jacksonville, Florida.
Niko Fraser, a sophomore outfielder from Jacksonville, Florida, started 38 of the 51 games in which he appeared as a true freshman last season en-route to batting .281 with 21 RBI, 33 runs scored, and 11 stolen bases. In his collegiate debut, he recorded two hits in a win over Towson. The speedy Fraser scored three runs on three different occasions last season.
As a prep at The Bolles School in Jacksonville, he hit .420 during his senior season and was named a First-Team All-Coast pick in both that season and his junior year. Fraser also garnered First-Team All-State honors as a senior. Prospect Wire ranked him among the top-75 players in the state of Florida coming out of high school.
Mallards Field Manager Greg Labbe thinks Fraser's style of play will provide a lot of excitement to fans at the "Duck Pond" this summer.
"Fraser is one of the most dynamic players I have had the opportunity to watch in the past few years," said Labbe.
Kyle Webb, a sophomore right-handed pitcher also from Jacksonville, earned a spot on the Southern Conference All-Freshman Team after posting four saves and a team-leading 3.41 ERA over 27 appearances. He stuck out 28 batters in 37 innings while holding opponents to a .236 batting average. Webb only made one start for the Phoenix, but was rather impressive, in a matchup against The Citadel during which he walked just one while striking out three in a career-long 8.2 innings of work.
At Providence High School (Jacksonville) he was named the 2009 Florida 2A State Player of the Year as a senior after posting a miniscule 0.81 ERA. A year prior, he helped lead his team to a Class 2A state title with a 10-1 record and even better 0.80 ERA. He fanned 70 batters while walking only 12 over 67.2 innings of work.
"I have known Kyle since he was 12 years old and not many kids since that time have maximized their ability as much as he has," said Labbe.