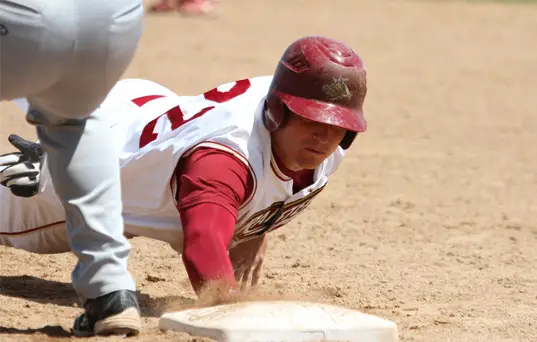 The Rafters added a piece to both the infield and outfield today by announcing the additions of corner infielder Josh Cyr (North Alabama) and outfielder Michael Blatchford (Creighton).
Josh Cyr has picked up his sophomore season right where he left off his freshman year. Cyr has started all 35 of North Alabama's games so far this season, batting mainly out of the third spot in the batting order and posting some impressive numbers. He is currently batting .311 (32-for-103) with 8 doubles and 4 home runs on the season and has scored 31 runs while tallying 25 RBI. He carries a .500 on-base percentage, which is aided by his 26 walks and 21 times he has been hit by a pitch.
Cyr was selected as the Gulf South Conference East Division Player of the Week for the week ending February 20th earlier this season, as the first baseman went on a tear at the plate. The sophomore helped lead the Lions to a 4-0 record during that week, after reaching base in 13 of 17 plate appearances. Cyr hit .636 (7-for-11) for the week with 7 RBI, two doubles, two home runs, five runs scored and five walks.
Last season, as a freshman, Cyr started 51 of the Lion's 53 games and earned Gulf South Conference East Division Freshman of the Year honors. He ended the season by hitting .331 (49-for-148) with 32 runs scored and 28 RBI to go along with 9 doubles and four home runs. He had 15 multiple hit games and nine multiple RBI games during his freshman campaign, which also saw him walk 24 times and get hit-by-pitch 19 times for a .479 on-base percentage.
Cyr attended Westminster Christian Academy during high school where he played first base, third base, and catcher while helping lead his team to the state playoffs every year from 2006-2009. He was named All-State in 2008 and 2009 and holds the school record for most home runs in a season. He is originally from Huntsville, Alabama.
Michael Blatchford is amidst his sophomore season for Creighton University, where he has appeared in 12 games, making two starts. He is 2-for-10 at the plate, with one double and one home run, while also driving in 4 runs in limited at bats early on in the spring.
As a true freshman, Blatchford appeared in 15 games, starting three. He ended the season with a .250 batting average, one home run, and 4 RBI.
Blatchford attended Columbus High School in Columbus, Nebraska where he earned a Second-Team All-State Selection during his senior season. He holds the Columbus High School records for home runs in a season with 11 and RBIs in a season with 48. During high school he also earned eight different Academic All-Conference awards; three in basketball and baseball and two in football.