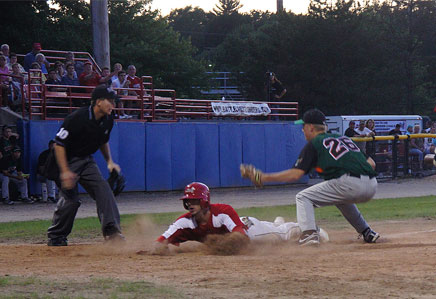 Alexandria 8, Duluth 5 (Game 1)
The Alexandria Beetles came from behind with a five-run 5th inning Thursday night to win their Northwoods League record 27th game of the half. Casey Shiver (Southern Polytechnic) earned the win and improves his record to 4-2 on the season. Anthony Bazzani (Eastern Kentucky) earned his league leading 12th save of the season.  The Huskies Mike Bisenius (Wayne State) went 2-for-4 hitting his 3rd home run and drove in two runs in the loss.
 
Eau Claire 5, Wisconsin Rapids 0
Tony Vocca (Yavapai) and Mike Couch (Santa Clara ) combined to no-hit the Rafters Thursday night in Eau Claire for the first no-hitter of 2011 Northwoods League season and the second in Express history. Vocca fanned 14 in eight innings while walking four for the Express. Couch struck out three in the 9th to finish it off. Ryan Shober (UIC) led off the game with a home run for the second straight night. Jacob Doyle (Arizona) pitched a complete game, striking out seven, in the loss. Express pitcher Tyler Bremer, also from Yavapai College in Arizona at the time, no-hit the Battle Creek Bombers on July 16, 2009.
Brainerd Lakes Area 8, Rochester 3
Brainerd Lakes Area put up a five-run top of the 9th inning to break the 3-3 tie in Rochester to pick up a road win in front of a crowd of 1,367 at Mayo Field. Garrett Benson (Bethany Lutheran) walked two and hit three Lunker batters to contribute to the 5-run inning. Matt Hillsinger (Radford) went 4-for-6 with three runs scored and two RBIs for the Lunkers. Johnny Coy (Wichita State) went 2-for-4 for the Honkers with three RBIs.
St Cloud 7, Mankato 3
Shaun Cooper (Utah) hit his league leading and record breaking 20th home run of the season but it wasn't enough to hold off Bryan Haar (San Diego) and the River Bats. Haar hit a 3-run shot in the 7th for his 10th on the season. He has hit a home run in each of the past three games. Andy Henkemeyer (Minnesota) went 3-for-5 with a double and a triple. Matt Iannazzo (Pittsburgh) fanned eight and allowed two runs in five inning to earn the win and improve his record to 5-1.
Battle Creek 13, Green Bay 5
Jordan Dean (Central Michigan) had four hits and Rhett Goodmiller (Taylor) drove in five runs as the Bombers blew out Green Bay 13-5 to pull into a tie for first place in the second half South Division standings. Goodmiller hit a grand slam in the 3rd inning for his first home run of the season. Tyler Hall (Central Michigan) reached base all five times and scored four runs. Paul Hoenecke (UW-Milwaukee) hit his 9th home run, driving in three in the loss. Green Bay's magic number to clinch a playoff berth remains at 2.
La Crosse 4, Waterloo 2
The Loggers scored four early runs on their way to an important 4-2 home victory in front of a crowd of 3,819 at Copeland Park. Jake Stassi (Long Beach State) allowed just two runs and struck out seven in 7 2/3 innings to earn his 5th win. Andrew Knapp (California) went 1-for-3 with a two-run double in the 2nd inning but lowered his league-leading batting average to .397. Colin Keefe (Des Moines Area CC) had two hits to lead the Bucks offense.
Thunder Bay 6, Willmar 1 (5 innings)
Thunder Bay won a rain-shortened game north of the border Thursday night with a 6-1 victory against Willmar. Ino Patron (Long Beach State) homered for the third time this year and drove in two runs. Brett Kay (Illinois State) went 2-for-2 at the plate with a double and two RBIs. Ryan Lucero (Trinity) earned the complete game victory with five innings on the mound and one run allowed. Chris Woolley (Western Nevada) scored the only run for the Stingers.
Madison 9, Wisconsin 4
Madison scored five runs in the 8th inning to break a 4-4 tie and pick up a home victory against Wisconsin with 6,750 fans on hand at the Duck Pond. Justin Parr (Illinois) broke the tie with a three run blast, his third home run of the season. Tyler Jones (Long Island) also went deep for the Mallards, his fourth. The Woodchucks also liked the long ball Thursday. Carlos Escobar (Nevada-Reno) had two hits, including his sixth home run. Robbie De La Cruz (UNLV) hit his second of the season.
Duluth 5, Alexandria 4 (Game 2)
Ryan Gibbard (Webber) pitched well for five innings to earn his first win of the season and give Duluth a split of the doubleheader. Adam Humes (Northwood) had two hits, including a double, and two runs scored. Brian Hansen (St. Cloud State) tripled and scored a run. Mike Theofanopolous (California) and Jeremy Boyd (Southern Polytechnic) each hit solo home runs for Alexandria in the loss.