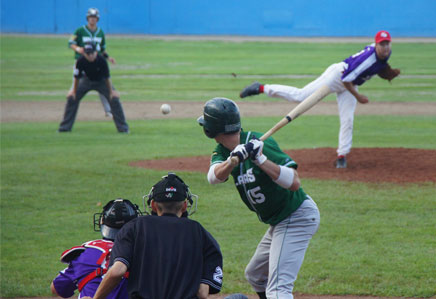 Green Bay 5, Express 4
The Bullfrogs won their second in a row at home in walk-off fashion to gain momentum heading into the playoffs on Monday. Ryan Freitag (Madison College) hit a two run home run in the top of the eighth for the Express to tie the game at 4. But the Bullfrogs came through in the bottom in the 9th, Ryan Allgrove (UC Davis) scored the winning run and Gunnar Eastman (UW-Milwaukee) faced three batters in the 9th to earn the win. Eric Peterson (Washington) had his first home run of the season and batted in four runs for the Bullfrogs.
Waterloo 11, Wisconsin 6
Waterloo stepped up in the late innings and came out on top in the final game of the year defeating Wisconsin 11-6. For the Woodchucks, Derek Peterson (Olney Central) went 3-for-5 and Gabe Feldman (Wake Forest) drove in two. Derek Lamacchia (Quinnipiac) pitched six strong innings striking out ten and only allowing four hits earning him the win. Andrew Ewing (Iowa) went 2-for-4 with a double and three RBIs for the Bucks.
La Crosse 15, Wisconsin Rapids 5
On the road at Witter Field, the Loggers dominated the Rafters for their final game of the 2011 season winning 15-5. Tyler Smith (Oregon State) went 4-for-6 with three doubles, three runs scored and four RBIs, while teammate Bobby Juan (Minnesota) went 4-for-5 with a run scored and three RBIs. The Loggers threw six pitchers on the mound and they only allowed five hits in all. For the Rafters, Joshua Cyr (North Alabama) singled in the 4th and drove in two runs. Logger Andrew Knapp (California) did not play in the game and finishes the season with a .400 batting average, second highest in Northwoods League history.
Battle Creek 3, Madison 2
The Bombers topped the Mallards at home for their 7th win in a row and enter the playoffs with the 2nd best record in the Northwoods League. Jordan Owen (Tennessee–Martin) went 2-for-4, scored twice and batted in two for the Mallards. Brett Wiley (Jefferson College) tripled in the bottom of the 7th and scored what ended up to be the winning run on a sacrifice fly by Troy White (Northern Illinois) of the Bombers.
Rochester 4, Duluth 3
The Honkers scored three runs in the 9th inning for a dramatic 4-3 win over the Huskies in the season finale. Rochester took the lead on an Eric Birch (Mary) two-run single. Seth McMullen (Winona State) went 3-for-4 while Justin Kline (Presentation) and Reid Roper (Illinois) had two hit apiece for the Honkers. Adam Humes (Northwood) was 2-for-4 in the loss for Duluth. Joey Novak (Harvard) got a no-decision after allowing one run in six innings and finishes the season second in the league with a 1.82 ERA.
Willmar 8, Alexandria 3
Mitch Rowan (Willamette) went 4-for-4 and Sean Dwyer (Florida Gulf Coast) went 3-for-4 leading Willmar to a season-finale victory against playoff-bound Alexandria. Ben Burns (Daytona State) tossed five good innings to earn his 3rd win and Anthony Bemboom (Creighton) his his 2nd home run. For the Beetles, Robert Case (St. John's) also hit his 2nd home run of the season.
Thunder Bay 16, Mankato 5
The Border Cats totalled 20 hits and scored at least one run in each of the last seven innings on their way to a blowout victory at Mankato. David Fallon (Illinois State) led the onslaught with a 4-for-5 performance including two doubles and his 5th home run. Kyle Mossbarger (Wright State) also went deep for the Border Cats while Casey Selsor (Texas-San Antonio) drove in four runs. John Straka (North Dakota State) was great for six innings on the mound to get his 6th win. Steve Nyisztor (Rutgers) hit his 1st home run of the season for Mankato.
St. Cloud 5, Brainerd Lakes Area 3
Carlos Lopez (Cal State-Fullerton) doubled, drove in two runs and scored a run in St. Cloud's season-ending victory over Brainerd Lakes Area. Both St. Cloud's Andy Henkemeyer (Minnesota) and, his college teammate, Brainerd's Dan Olinger (Minnesota) played every position in the game. Olinger had two hits and an RBI to pace the Lunkers offense.
Playoff Schedule
North Division
Monday, August 15
Alexandria at Mankato, 7:05 PM central
ALX: Michael Reed (RHP, SO, Louisiana State, 5-2, 4.08) vs.
MAN: Blake Schwartz (RHP, JR, MSU-Mankato, 6-1, 1.71)
Tuesday, August 16
Mankato at Alexandria, 7:05 PM central
MAN: Tyler Niederklein (RHP, SO, Nebraska, 4-1, 2.86) vs.
ALX: Jon Reed (RHP, FR, Tennessee, 6-1, 3.35)
Wednesday, August 17
Mankato at Alexandria, 7:05 PM central (if necessary)
MAN: Sam Selman (LHP, SO, Vanderbilt, 2-4, 3.89) vs.
ALX: Matt Fyffe (RHP, JR, Eastern Kentucky, 4-4, 4.82)
South Division
Monday, August 15
Battle Creek at Green Bay, 7:05 PM central
BC: Troy Forton (RHP, JR, Western Michigan, 6-4, 2.84) vs.
GB: Andy Hunter (RHP, JR, Gonzaga, 5-2, 1.97)
Tuesday, August 16
Green Bay at Battle Creek, 7:05 PM eastern
GB: Tim Giel (RHP, SO, Columbia, 7-3, 2.33) vs.
BC: Nick Frey (RHP, FR, Texas Christian, 4-0, 2.25)
Wednesday, August 17
Green Bay at Battle Creek, 7:05 PM eastern (if necessary)
GB: Drew Bradshaw (LHP, SO, San Jose State, 2-1, 4.47) vs.
BC: Ben Ballantine (RHP, SO, Michigan, 3-1, 2.27)
Summer Collegiate World Series
The series will be in a 1-2 format with game one at the home park of the team with the lower winning percentage during the regular season and games two and three at the home stadium of the team with the higher winning percentage.
Alexandria .638 (44-25)
Battle Creek .623 (43-26)
Green Bay .609 (42-27)
Mankato .600 (42-28)
Thursday, August 18
TBD
Friday, August 19
TBD
Saturday, August 20
TBD (if necessary)