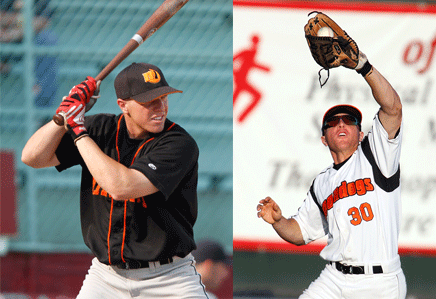 Mankato MoonDogs' outfielder Shaun Cooper (Utah) continues to collect hardware. The Northwoods League's Most Valuable Player in 2011 was recently named the Summer Player of the Year by Perfect Game USA. The baseball scouting service website considered players from more the 20 summer leagues for their postseason honors.
Cooper had arguably the best season any player has ever had in the NWL. His 20 home runs broke a long-standing league record while his 61 RBIs led the league. He batted .335, which was 7th in the NWL, and was 15 of 16 in stolen base attempts, which was the top success rate in the league. After going undrafted this past June, the 5-foot 10-inch, 195-pound outfielder did everything he could to make the scouts take notice as he heads into in senior season with the Utes.
Cooper wasn't the only Northwoods League player recognized by Perfect Game USA. Five other players were named to their Summer Collegiate All-America Team.
La Crosse Loggers' catcher Andrew Knapp (California) became the first player to hit .400 in the NWL since 1995.  The soon-to-be sophomore batted exactly .400 with five home runs and 33 RBIs.
Waterloo Bucks' third baseman Cameron Perkins (Purdue) was fourth in the league in batting with .344. He belted 10 home runs and drove in 46 runs on the summer. Perkins, now a junior, was fourth in the NWL with 19 doubles.
Mankato MoonDogs' pitcher Blake Schwartz (Oklahoma City) was named the Pitcher of the Year in the NWL. He led the league with a 1.71 ERA, going 6-1 in 63 innings pitched, striking out 75. The 6-foot 3-inch right hander has transferred from division two MSU-Mankato to the NAIA power Oklahoma City University for his senior season.
Green Bay Bullfrogs' pitcher Andy Hunter (Gonzaga) had a great season on the mound in addition to contributing as a first baseman. The 6-foot 6-inch righty was fourth in the NWL with a 1.97 ERA firing 59 1/3 innings and striking out 68 to go along with his 5-2 record. He enters his senior season with the Bulldogs.
Alexandria Beetles' pitcher Anthony Bazzani (Eastern Kentucky) put up some amazing numbers working out the bullpen for the NWL's top team in the regular season. The junior righty emerged as one of the League's top prospects after striking out 70 in 49 1/3 innings and saving a league-leading 12 games.
Read the Perfect Game USA article about Shaun Cooper being named Summer Player of the Year.
The Northwoods League has more teams, plays more games, and draws more fans than any Summer Collegiate Baseball League in North America.