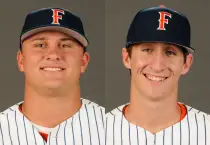 (Wausau, WI) – This week, the Wisconsin Woodchucks are announcing two new additions to their 2012 summer roster. J.D. Davis and Kenny Mathews, two highly touted freshmen from Cal State Fullerton, will look to be an integral part of the 'Chucks' lineup this season.
Davis was a 5th round pick of the Tampa Bay Rays in last years MLB draft after putting together a stellar high school career. Playing both infield and pitching, Davis produced incredible numbers. At the plate he never hit lower than .337 in his career, hitting .444, .337, .486 and .505 his four years of high school, including 19 home runs and 141 RBI. He was equally impressive on the mound, striking out 219 batters in 165 career innings, while never posting an ERA over 2.60.
Like Davis, Mathews also put together an impressive high school career. Mathews was drafted in the 12th round of the 2011 MLB draft by the New York Mets. A 6-3 lefty, Mathews earned multiple all-conference and all-league honors, included his junior year where he hit .470 at the plate as well as a 7-2 record on the mound with a 2.10 ERA. So far this year for the Titans, Mathews has impressed, compiling a 3-0 record with a 2.89 ERA and 39 in just over 37 innings.