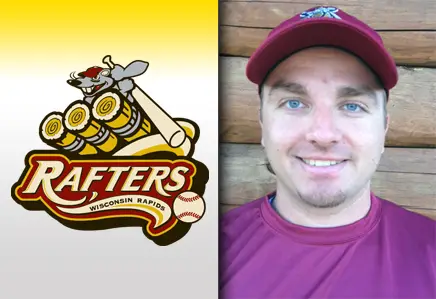 WISCONSIN RAPIDS, Wis. (May 8, 2012) – The Wisconsin Rapids Rafters announced today that David Allbritton and Josh Thomas (pictured) have been added to the coaching staff for the 2012 season. Allbritton will be the hitting coach for the Rafters this summer and Thomas will assume the role of bullpen coach. The team also announced that Max Daven will return to the front office this summer as the Director of Finance and Ticket Sales. Daven was a ticketing intern for the team during the Inaugural Season in 2010.
Allbritton will begin his first season with the Rafters after a successful collegiate playing career at Barton County Community College and Emporia State University. He began his college career at Barton County Community College in Great Bend, Kansas, where he was the team's starting catcher for two seasons and was voted to the Jayhawk West All-Conference Team. He then transferred to Emporia State, where he was the team's starting catcher for his final two seasons. While at Emporia State, Allbritton received All-Conference, All-Region, and All-American honors at the Division II level.
Allbritton's success afforded him the opportunity to play two different stints of summer collegiate baseball, where he will bring a wealth of experience to the Rafters team this summer. He spent the 2009 summer playing for the El Dorado Broncos of the National Baseball Congress Jayhawk League, helping the Broncos to an NBC World Series title that summer. As a member of the Broncos, Allbritton was an All-Jayhawk League selection, posting a .401 batting average, with eight home runs and 47 RBI. He also received All-American honors at catcher and the "Just Block It" catcher award for his efforts. The following summer he was a member of the–now defunct–Brainerd Lakes Area Lunkers of the Northwoods League. Allbritton appeared in 54 games with the Lunkers, posting a .227 batting average, with two home runs, and 24 RBI.
Allbritton is a native of Shreveport, La., where he was team captain and won All-City and All-District honors playing baseball at C.E. Byrd High School. He plans to continue his coaching career this fall at Emporia State University.
A native of Nekoosa, Wis., Josh Thomas will return to the Rafters for his third season, first as a full-time assistant coach. He spent the previous two seasons as a volunteer coach for the team. Thomas is a 2007 graduate of Winona State University, where he earned a double major in Physical Education and School and Community Health. He also received a minor in coaching, with an emphasis on baseball.
Thomas attended Assumption High School in Wisconsin Rapids where he was a member of the baseball team, receiving All-Conference Honorable Mention as a catcher in 2002. He also was a member of the Nekoosa American Legion program from 2000-2003, where he was a First Team All-Conference Honorable Mention selection as in 2003. His playing career extended beyond high school, as he spent three years (2006-2008) playing amateur ball with the Kendall Mustangs of the Mississippi Valley Conference as well as one year (2009) with the Wausau Riverhawks.
In addition to his two years as a volunteer coach for the Rafters, Thomas has spent two seasons as the Assumption High School Baseball Varsity Assistant Coach (2008, 2012) as well as three seasons as Newman Catholic High School Girls Varsity Head Softball Coach (2008-2011). As the Head Softball Coach at Newman, Thomas' teams posted records of 4-16, 14-7, and 14-5, respectively. The 2010 and 2011 teams both advanced to the Division 4 Regional Finals.
The Rafters also announced an addition to the front office staff today by naming Max Daven as the team's Director of Finance and Ticket Sales. This year will mark Daven's second season in the Northwoods League, as he was previously the Rafters' ticketing intern during the Inaugural Season in 2010.
Daven received his bachelor's degree in Personal Finance from the University of Wisconsin-Madison in 2012. During college he was employed by Capitol Bank in Madison, where he worked as a Customer Service Specialist. Daven is a native of Wisconsin Rapids.
The Wisconsin Rapids Rafters are members of the 16-team summer collegiate Northwoods League. The Rafters will play a 70 game schedule with 35 home games in 2012. Opening Day at historic Witter Field is scheduled for Wednesday, May 30 at 7:05 pm against the La Crosse Loggers. Reserve your 2012 ticket packages today by calling 715-424-5400, or in person by stopping by the Rafters office at historic Witter Field. Available quantities of all promotional giveaways will vary from event to event and will be available on a first come, first serve basis. The best way to guarantee giveaway items is to purchase a 9-Game Package. The offseason office hours are Monday through Friday from 9am-5pm. For more information, visit www.raftersbaseball.com.