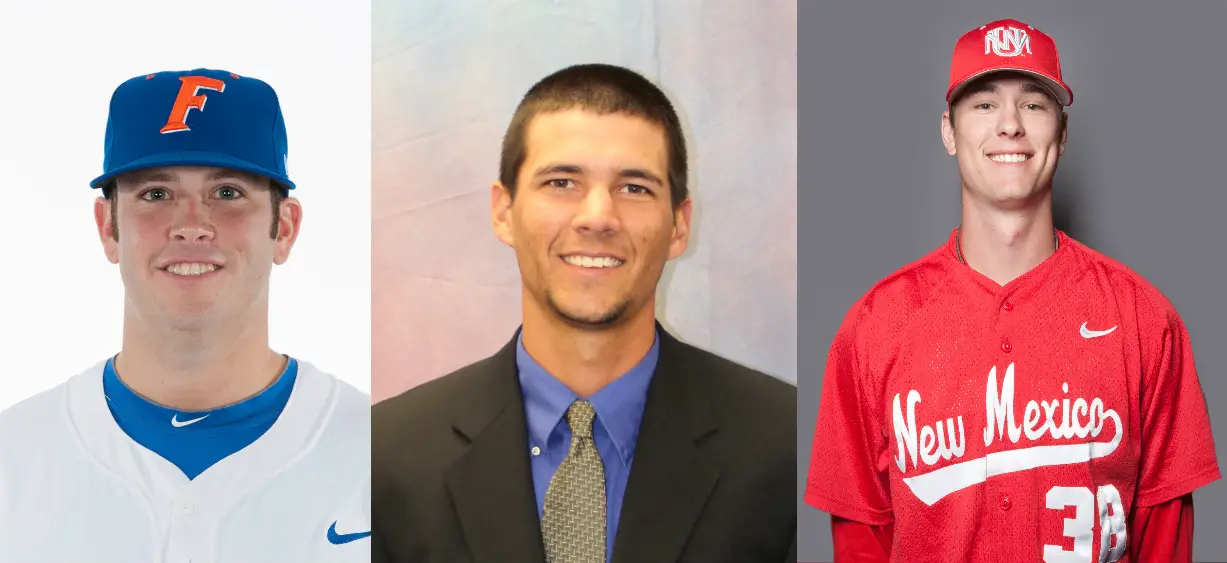 MADISON, Wis. (May 16, 2012) — The Mallards have announced the signing of sophomore left-handed pitcher Daniel Gibson (left) from the University of Florida, redshirt junior right-handed pitcher Trevor Foss (center) from Texas A&M-Corpus Christi and junior right-handed pitcher Hobie McClain (right) from the University of New Mexico.
Daniel Gibson – Florida
Gibson, a 6'3", 220 pound pitcher from Lutz, Fla. will join the Mallards after his second season in Gainesville. He was selected in the 26th Round of the 2012 MLB Draft by the Milwaukee Brewers, but turned down a professional contract to attend Florida. So far in 2012, he is 1-1 with a 2.49 ERA in 19 appearances, all out of the bullpen. As a freshman he made 14 appearances and registered 10 strikeouts in 10.1 innings pitched.
"Championship teams are built on pitching and when you can add a left-handed pitcher like Daniel you know you just got closer to that goal," said Mallards Manager Greg Labbe. "Having pitched regularly on one of the best pitching staffs in the country and then in the Cape last summer I expect Daniel to step right in and make an impact on this team. With a fastball that can get into the mid-90's and a big power curveball I feel that Daniel has more than enough stuff to get guys out two to three times through the line-up which is why we will expect him to compete for one of the starting jobs."
Gibson spent the summer of 2011 playing for the Yarmouth-Dennis Red Sox of the Cape Cod League. He made eight appearances and finished with a 1-1 record, one save, and 4.42 ERA.
He attended Jesuit High School where he was the 59th ranked prospect in the class of 2012 rankings by national scouting service Perfect Game. He was a Second-Team All-American by Baseball America and Max Preps following his senior season when he was 14-1 with a 1.52 ERA. He pitched 90 innings and recorded 129 strikeouts and just 31 walks. He was named the Florida 4A State Player of the Year in 2010 when he led Jesuit to the state finals. He is a social and behavioral science major at Florida.
Trevor Foss – Texas A&M-Corpus Christi
Foss, a 6'3", 165 pound right-hander from Janesville, Wis. will come to the Mallards after his third full season with the Islanders. So far in 2012, he is 2-6 with a 4.47 ERA. He has 56 strikeouts in just 44.1 innings pitched. In 2011 he appeared in nine games and struck out five in 6.2 innings pitched. He made just two appearances in 2010 before an injury caused him to redshirt. As a freshman in 2009 he made 14 appearances, including one start.
"Trevor has front line stuff, but has been side tracked the past few years due to injury," said Labbe. "He is healthy now and really throwing well for Corpus Christi and I expect him to keep that success going in Madison this summer. When you put a pitching staff together you want to have guys that can do different things and what separates Trevor from other arms is his ability to spin the curveball."
He attended Janesville Craig High school where he was named All-State, All-District, and All-Conference his senior season. He was 5-1 with a 1.96 ERA while being the No. 4 ranked prospect in Wisconsin by Perfect Game. He is majoring in criminal justice at Texas A&M-Corpus Christi.
Hobie McClain – New Mexico
McClain, a 6'3", 195 pound pitcher from Roswell, N.M. will join the Mallards after his junior season with the Lobos. So far in 2012, he has made 15 appearances out of the bullpen and has a 2.18 ERA and 1-1 record. He also has recorded a pair of saves. He spent both the 2010 and 2011 seasons at Clarendon Junior College in Clarendon, Texas. In 2011 he finished with a 5.20 ERA and 6-3 record while pitching 72.2 innings.
"Hobie is the type of guy that you have to have at the back-end of your bullpen," said Labbe. "He pitches from a low 3/4 arm slot which creates a lot of movement and will be very difficult on right-handed hitters. He pounds the zone with three pitches and loves to compete. I think Hobie is the type of guy that only wants to be in the game when the game is on the line."
McClain pitched in the National Baseball Congress World Series in 2011 for the Casa Grande Cotton Kings. He appeared in three games, and struck out two batters in 1.2 innings pitched.
He attended Goddard High school where he led his team to a District Championship in 2009.
The Mallards have waived pitchers Mark Sappington (MLB Draft), Corey Roberts (Shoulder Injury), and Matt Sims (Shoulder Injury) and position players Michael Handel (Torn Labrum), Jordan Parr (MLB Draft), and Galen Smith (Torn PCL).
The 2012 season is upon us! Single-game tickets are on-sale for all Mallards home games!
The Mallards will host their season opener against the Battle Creek Bombers on May 30 at 7:05 pm at the "Duck Pond." 7-Game Packs, season, and group tickets are on sale now!
The Madison Mallards are part of the 16-team Northwoods League. The Northwoods League has more teams, plays more games, and draws more fans than any other Summer Collegiate Baseball League in North America.