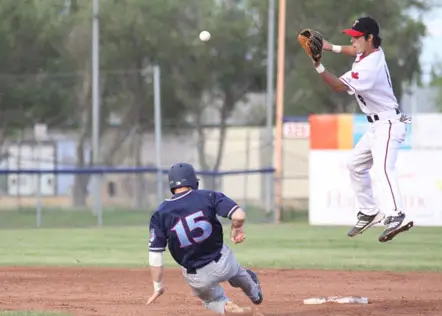 ROCHESTER, Minn. (June 11, 2012) – There were 31 runs scored in Rochester as Waterloo continues to keep pace with the Mankato MoonDogs in the North. Meanwhile in the South, the Loggers took over the division lead with their victory over the Chinooks.
La Crosse 6, Lakeshore 1
La Crosse was led on the mound by Alex Gunn (Hinds CC) who threw seven strong innings allowing just one run on six hits and striking out five Lakeshore batters. With the win, the Loggers take sole possession of first place in the South Division. The Loggers and Chinooks will meet again on Tuesday with the first pitch scheduled for 6:35 p.m.
Willmar 5, Duluth 4
After Michael Suiter (Kansas) hit an RBI single in the bottom of the ninth to tie the game at four, the Stingers added a run in the top of the tenth on an error to win 5-4. Duluth with host the Stingers again on Tuesday with a start time of 7:05 p.m.
Alexandria 8, Mankato 10
Mankato was led by Craig Massoni (Chabot College) who was 3-for-3 with two RBI and three runs scored in the victory. The MoonDogs and Beetles will square off again on Tuesday at 7:05 p.m.
Waterloo 21, Rochester 10
The Bucks had plenty of offense in this one as they scored 12 runs in the top of the fourth. They were led by Kevin Kaczmarski (Evansville) who hit two home runs, one of them being a grand slam. Rochester will host Waterloo again on Tuesday beginning at 7:05 p.m.
Green Bay 5, Wisconsin Rapids 4
Nick Stein (Coe College) was a bright spot for the Bullfrogs in this game. Stein was 2-for-4 with an RBI. His RBI double in the top of the eighth would be the eventual game-winning run. This series will continue in Green Bay on Tuesday with the first pitch scheduled for 7:05 p.m.
Eau Claire 7, Battle Creek 3
In a game with two weather delays, the Express eventually came away victorious. Andrew Hedrick (Iowa) was dominant on the mound for the Express. Hedrick allowed no runs on three hits and struck out eight. The Bombers and Express will go at it again Tuesday, with the first pitch scheduled for 7:05 p.m. ET.
St. Cloud 5, Thunder Bay 10
Thunder Bay was led by Omar Cotto (USC). Cotto was 3-for-6 at the plate with three RBI and two runs scored for the Border Cats. The Border Cats will host the Rox again on Tuesday starting at 7:05 p.m. ET.
Madison 6, Wisconsin 9
The Woodchucks saw a good performance at the dish by Nate Irving (Virginia). Irving was 2-for-5 at the plate with an RBI and two runs scored. The Mallards and Woodchucks will be at it again on Tuesday when the first pitch is thrown at 6:35 p.m.