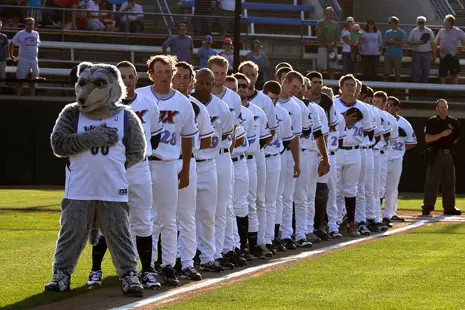 ROCHESTER, Minn. (June 26, 2012) – Tuesday brought plenty of excitement around the league, but none are more excited than the fans and players in St. Cloud. The Rox ended a 14-game losing streak to avoid tying a league record losing streak.
Thunder Bay 2, St. Cloud 3
The Rox ended their 14-game losing streak on Tuesday. Jamie Simpson (Eastern Michigan) came across to score in the bottom of the eighth to put St. Cloud up 3-2 and that would be the final.
Willmar 2, Mankato 8
The MoonDogs were led by Nick Ratajczak (Louisville) who was 3-for-4 at the plate with an RBI and came across to score four times. He also recorded his fourth home run of the season and third stolen base. These two teams will have Wednesday off.
Duluth 10, Waterloo 2
The Huskies pounded out 10 runs on 15 hits in this one. Brian Hansen (St. Cloud State) had three of those hits and drove in one run and scored twice for the Huskies. Waterloo will host the Huskies again on Wednesday at 6:35 p.m.
Madison 7, Wisconsin 2
Nicholas Howard (Virginia) was 3-for-4 with two RBI and two runs scored. Howard had two doubles and a home run, his first, in the game. This series continues in Madison on Wednesday with the first pitch scheduled for 7:05 p.m.
Battle Creek 4, Eau Claire 3
Chris Sujka (Indiana) drove in two of the Bombers' runs on a two-run home run in the top of the third, which put Battle Creek up for good. Battle Creek and Eau Claire will meet again on Wednesday for a 6:35 p.m. start.
Lakeshore 2, La Crosse 3
The Loggers scored all three of their runs in the bottom of the seventh inning to take the late lead and held on to win, 3-2. The Loggers will host the Chinooks on Wednesday at 7:05 p.m.
Alexandria 5, Rochester 10
Chad Wallach (Cal State Fullerton) led Rochester who was 4-for-5 at the plate with five RBI and two runs scored. The Honkers will begin their ten-game road trip on Wednesday in St. Cloud with a 7:05 p.m. first pitch. The Beetles will host the Thunder Bay Border Cats at 1:05 p.m.
Wisconsin Rapids 2, Green Bay 6
Kevin Krause (Stony Brook) recorded his first home run of the season when he hit a three-run home run in the top of the second. That home run put the Bullfrogs up 3-2 and they never looked back. Wisconsin Rapids will host the Bullfrogs on Wednesday at 7:05 p.m.