Straily to Make MLB Debut Friday Night
August 3, 2012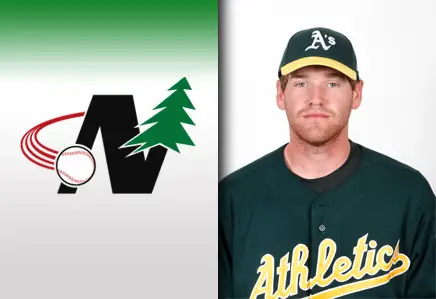 OAKLAND, Calif. (August 3, 2012) — Former St. Cloud River Bats right-handed pitcher Dan Straily is expected to make his Major League Baseball debut on Friday when he starts for the Oakland Athletics against the Toronto Blue Jays. Straily was called up from Triple-A Sacramento on Thursday by the Athletics.
So far in 2012, Straily has 175 strikeouts in 138.1 innings pitched while spending time in Double-A Midland and Triple-A Sacramento. He was called up from Triple-A after going 5-2 with a 1.36 ERA. He currently leads the minors in strikeouts and his 175 are more than major leaguers Stephen Strasburg (154) and Justin Verlander (152).
The Redlands, Calif. native played for St. Cloud in 2009 before being drafted by the A's in the 24th round of the 2009 MLB Draft. While with the River Bats, he went 0-1 with a 3.50 ERA and recorded 12 strikeouts in 18 innings pitched. In 506 innings pitched in the minors, Straily has 544 strikeouts and a career ERA of 3.68.
Straily becomes the 15th former St. Cloud player to play in the Major Leagues. He joins former players like New York Yankees' third baseman Casey McGehee and Washington Nationals' pitcher Tom Gorzelanny in the big leagues. Straily is the 93rd Northwoods League alum to make it to the big leagues and the 41st to appear in a game in 2012.
The Northwoods League has more teams, plays more games, and draws more fans than any other Summer Collegiate Baseball League in North America. The League has 16 teams in Wisconsin, Minnesota, Iowa, Michigan, and Ontario.