Former MoonDogs Make An Impact in Fall Leagues
December 13, 2012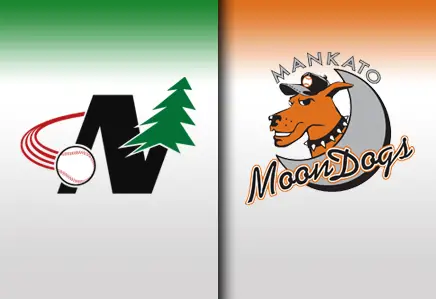 The Mankato MoonDogs, a member of the Northwoods League, have seen alumni make a big impact in fall baseball leagues around the world.
Former MoonDog alumni Carlos Ramirez ('08) and Jimmy Reyes ('08) recently wrapped up play in the six-team Arizona Fall League that runs from early October to mid-November.
Ramirez, who was the 2008 Northwoods League MVP, played for the Scottsdale Scorpions. The Los Angeles Angels selected Carlos in the eighth round of the 2009 MLB Amateur Draft. In eight games at catcher this fall Carlos had 24 at bats with a .250 batting average and four RBIs.
Reyes pitched for the Surprise Saguaros. The Texas Rangers drafted Jimmy in the 2009 MLB Amateur Draft in the seventh round. This fall, he appeared in nine games, pitching 13.1 innings with a strong ERA of only 0.68 with a 1-0 record.
The Arizona Fall League is often used as a stepping stone towards the MLB. The Northwoods League, as a whole, was represented by 23 alumni this fall.
Outside of Arizona, another former MoonDog, Tyson Brummett (05-06) is pitching in the eight-team Venezuelan Winter League. The winter league started play in October and concludes its regular season at the end of December.
So far this winter Brummett has 10 starts, throwing 52 innings, and achieving a record of 3-1. Tyson has a 4.51 ERA along with 22 strikeouts. Brummett, who is currently in the Toronto Blue Jays organization, was originally drafted by the Philadelphia Phillies in the 7th round of the 2007 MLB Amateur Draft.
The Mankato MoonDogs 2013 season will start in late May. MoonDogs merchandise is on sale at the MoonDogs baseball office located at 1221 Caledonia Street. For more information visit, www.mankatomoondogs.com or call 507-625-7047.