Bucks Lock up a Chippewa
January 15, 2013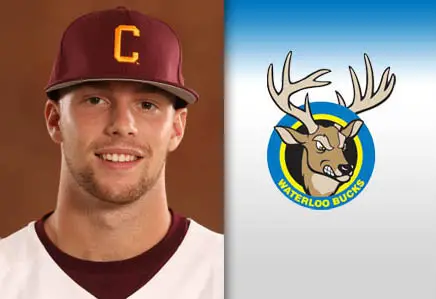 Waterloo, IA – The Waterloo Bucks, a member of the Northwoods League, have announced the signing of infielder Pat MacKenzie to their roster for the 2013 season. MacKenzie , a sophomore at Central Michigan University, is the second player to be named to Waterloo's roster for the team's 19th season.
Last season for the Chippewas, MacKenzie started 43 of the 50 games he played, finishing the season with a .326 average. The 5'9", 175-pounder drove in 16 runs and ended the year with four stolen bases and an on-base percentage of .464, which led his team. A native of Royal Oak, Michigan, MacKenzie redshirted for Central Michigan in 2011.
"I'm very excited, once again, to have another Chippewa player on our roster for the 2013 season," said Bucks manager Travis Kiewiet. "Coach [Jeff] Opalewski at Central Michigan has been great to the Bucks organization in sending us quality players and Pat is no different. He is a guy that we are going to count on to lock down the middle infield defensively while being a high on-base percentage batter for us at the plate."

Born March 5, 1992, MacKenzie played high school baseball at Birmingham Brother Rice High School where he earned Detroit Free Press Dream Team and first-team All-State honors as a senior. Pat is the son of Wayne and Jo Ann MacKenzie.
The Bucks will open the 2013 season at home versus the St. Cloud Rox on May 29. Season tickets, group outings, and single-game tickets are currently on sale. For more information, call the Bucks' Ticket Line at (319) 232-5633. Fans are encouraged to stay in touch with the Bucks in the off-season by utilizing their website at www.waterloobucks.com.