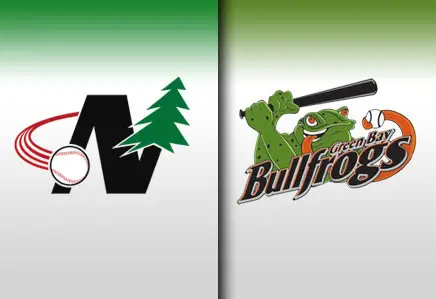 The Green Bay Bullfrogs of the Northwoods League are pleased to announce the signing of a new field manager for the 2013 season.
Karl Johnston, currently an assistant under former Bullfrogs manager Jordan Bischel at Midland University, will lead the team during the upcoming season.
After taking the head coaching position at Midland, an NAIA school that competes in the Great Plains Athletic Conference, Bischel hired Johnston in December of 2012. Johnston was then hired by the Bullfrogs in January of 2013.
"I can't thank Jordan enough for taking me on his staff at Midland and really working to get me a look for this position," Johnston said. "It would be a much greater challenge if I didn't have access to Jordan and his understanding of the Northwoods League, not to mention his contacts and relationships."
Johnson is the hitting and infielders coach at Midland. Prior to his time there, Johnston was a player for four years and an assistant coach for one year at Rider University, an NCAA Division 1 school in New Jersey.
This Johnston's his first experience in the Northwoods League, though he did play in the Valley League the summer in between his junior and senior years at Rider, and said he expected that particular experience as a player to benefit him in his first season as a coach in Green Bay.
"I know just how much of a challenge it is playing in the most competitive summer leagues," Johnston said. "So having an understanding of that, I want to create an atmosphere where our players can enjoy the process of improving every day."
As a player, Johnston was a speedy and fundamentally sound infielder. He hit .287 for his career at Rider, tallying 46 steals on the base paths and a .977 fielding percentage defensively. Known for his continuous drive to elevate his level of play, he earned Rider's Most Improved Player award as a junior, when he hit .313 with 20 RBI.
"I think anytime you take an attitude of 'I need to get better today' and look at what you're doing and how you can change it, you are going to find ways to improve," Johnston said. "I think players see that I am having a good time working tirelessly because I want them to be great, they'll be excited about it too."
Johnson also noted his competitive drive to win, and said that if he and his players continue to sharpen their abilities throughout the season, victories will accompany the improvement.
"I think development and winning go hand in hand," he said. "If I develop players we will win more games."
Other members of the Bullfrogs organization are also confident in Johnston's ability to continue a winning atmosphere in Green Bay.
"I'm very excited about Karl leading the Bullfrogs in 2013," Bullfrogs Owner and President Jeff Royle said. "His approach and commitment to make the team better everyday will put us in the position to compete for a championship."
The Bullfrogs will open up the 2013 Northwoods League season on May 29 in Wausau against the Wisconsin Woodchucks, and Johnston said he is looking forward to going through the Northwoods League experience with his players for the first time.
"I am going to enjoy the same process that our players will improve every day," Johnston said.
Please call 920-497-7225 or log on to www.greenbaybullfrogs.com for more information.
The Bullfrogs are a part of the 16-team Northwoods League. The Northwoods League has more teams, plays more games, and draws more fans than any other Summer Collegiate League in North America.