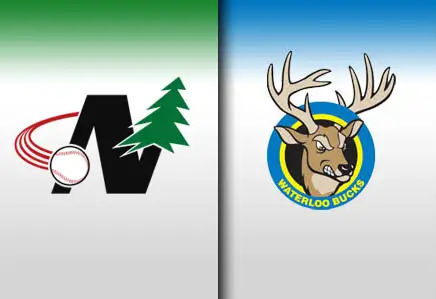 Durham, NC – Three former Waterloo Bucks have been recognized in the latest issue of Baseball America. All were honored in the magazine's 2013 College Baseball Preview edition.
Pitcher Jordan Foley was ranked as the Mid-American Conference's fourth best prospect for the 2013-14 Major League Baseball Drafts. The Central Michigan University sophomore appeared in 13 games for the Chippewas last year, finishing with a 3-0 record, 25 strikeouts, and an 8.20 ERA. Foley played for Waterloo in 2012 and was named a mid-season Northwoods League All-Star. For the Bucks, Foley appeared in 11 games, finishing the season with a 4-3 record, 32 strikeouts, and a 6.23 ERA. In 2011, Foley was drafted by the New York Yankees in the 26th round of the MLB Draft.
Alabama State University catcher Richard Gonzalez was ranked as the sixth best prospect in the Southwestern Athletic Conference for the 2013-14 MLB Drafts. Gonzalez played for the Bucks in 2012 hitting .279 with four doubles and five RBI in 12 games before injuries ended his season in late-June. Last spring for the Hornets, Gonzalez , then a freshman, played in 56 games, hitting .292 with nine doubles and 32 RBI.
Derek Lamacchia, a senior at Quinnipiac University, was ranked as the Northeast Conference's third best prospect for the 2013-14 MLB Drafts. Last season, Lamacchia (pronounced la-MOCK-ee-uh) started in 10 of the 11 games he appeared in for the Bobcats, finishing the spring with a 1-7 record, 65 strikeouts, and a 5.40 ERA in 61.2 innings. Lamacchia played for Waterloo in 2011 and 2012, appearing in 21 games. During his two years with the Bucks, Lamacchia accumulated an 8-5 record with 103 strikeouts and a 3.83 ERA in 112.2 innings pitched.
The February 2013 edition of Baseball America (Issue No. 1305) will be on sale through March 5.
The Bucks will open the 2013 season at home versus the St. Cloud Rox on May 29. Season tickets, group outings, and single-game tickets are currently on sale. For more information, call the Bucks' Ticket Line at (319) 232-5633. Fans are encouraged to stay in touch with the Bucks in the off-season by utilizing their website at www.waterloobucks.com.