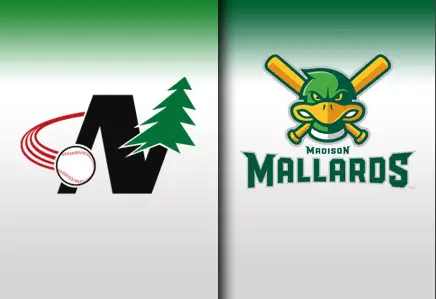 CHERRY HOVIS
Madison, WI – March 6, 2013. The Madison Mallards have announced the signing of freshmen right-handed pitchers Taylore Cherry and Reilly Hovis from the University of North Carolina.
Cherry, a 6'9", 260-pound native of Dayton, Ohio will join the Mallards after his first season in Chapel Hill. In his first appearance as a Tar Heel Cherry pitched a scoreless ninth inning in a 17-2 win. North Carolina is ranked No. 1 in the country in the latest National Collegiate Baseball Writers Association (NCBWA) poll.
Cherry attended Vandalia-Butler High School in Vandalia, Ohio and was ranked the No. 21 player in the nation by Perfect Game and No. 2 in the state of Ohio. Baseball America also ranked Cherry as the No. 38 player in the nation. He played in the Perfect Game All-American game in 2012 and was named the Ohio Gatorade Player of the Year his junior season.
Cherry went 9-2 with a 2.19 ERA and four shutouts in his senior season while striking out 84 batters in 60.2 innings. He was 6-1 with a 1.38 ERA in his junior season and struck out 94 batters in 56 innings of work.
Hovis, a 6'2", 190-pound native of Gastonia, North Carolina will also come to Madison after his freshman season with the Tar Heels. So far in 2013 Hovis has made three appearances and has yet to give up a run. He has two strikeouts in 4.1 innings pitched and opponents are hitting just .133 against him.
Hovis was ranked No. 7 in the state of North Carolina by Perfect Game and No. 8 by Impact Baseball during his time at Forestview High School in Gastonia, North Carolina. He was also a three-time All-Gaston Gazette performer and was named the 2012 Gaston Gazette Player of the Year. He was named to the North Carolina 3A All-State team during his senior year.
The Mallards will host their season opener against the Eau Claire Express on May 29th at 7:05 pm at the "Duck Pond." Single-game tickets will go on sale April 27th.
The Madison Mallards are part of the 16-team Northwoods League. The Northwoods League has more teams, plays more games, and draws more fans than any other Summer Collegiate Baseball League in North America. In 2013, the Northwoods League will celebrate its 20th season.