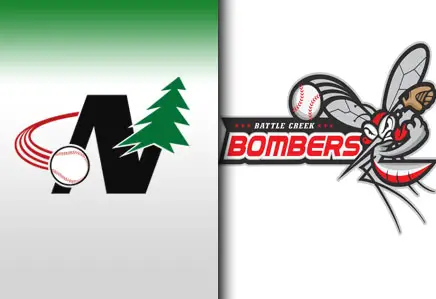 BATTLE CREEK, MI- The Battle Creek Bombers have announced the signings of Kansas pitcher Junior Mustain and infielder Tommy Mirabelli.
Junior Mustain: 6'1" – 180lb, B/R T/R, RHP, Kansas (Jr.), Camdenton, MO.
Tommy Mirabelli: 5'8" – 155lb, B/L-T/R, INF, Kansas (Fr.), Rocky River, Ohio.
A transfer to Kansas, Mustain has spent the past two seasons at Pratt Community College as a reliever. Mustain was a cornerstone of the Beaver bullpen going 4-3 in 2012 with a 2.43 ERA while recording seven saves as part of Pratt's 33-26 campaign. Junior led the team with 72 strikeouts and
walked just 19 in 63 innings of work. During his freshman year, Mustain went 4-3 with a 2.65 ERA in 25 appearances.
Mustain spent the summer of his freshman year pitching for the Hutchison Monarchs leading them to the National Baseball Congress World Series in Wichita. Mustain went a perfect 10 for 10 in save opportunities posting a 0.82 ERA in 22 innings. At Camdenton High School, Junior was named First Team All-Ozark Conference and Second Team All-District in 2010. He plans to major in geology.
The former Northeast Ohio Rookie of the Year, Tommy Mirabelli brings a potent offensive game and smooth fielding to Battle Creek. In 2010, Mirabelli and his .527 batting average played a key role in leading St. Edward High School to the Ohio Division I State Championship. As a junior, Mirabelli batted .450 with two homers and 15 RBIs. Mirabelli committed just three errors during his high school career.
Mirabelli was named all-state three times in his career. In addition to lettering four times in baseball, Mirabelli also lettered four times in hockey. In 2012, Mirabelli was part of a St. Edward hockey team that finished as the Ohio Division I State Runners Up. His father John played baseball at NC State and is the current vice president of scouting operations for the Cleveland Indians. Tommy was drafted by the Pittsburgh Pirates in the 28th round of the 2012 MLB Amateur Draft. He plans to major in sports management and minor in business.
The Battle Creek Bombers are members of the Northwoods League that has more teams, plays more games, and draws more fans than any other summer collegiate baseball league in America. The team opens up its 7th season in Battle Creek on Wednesday, May 29th. For information on tickets call (269) 962-0735 or visit BattleCreekBombers.com.