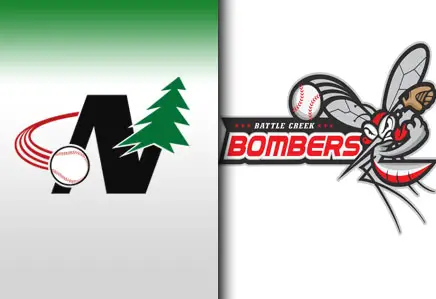 The Battle Creek Bombers have announced the signing of Toledo Rockets pitcher Kyle Slack and Heartland Community College pitcher David Stagg.
Kyle Slack: 6'8" – 240lb, B/R-T/R, RHP, Toledo (Fr.), Edwardsburg, Mich.
Slack, a graduate of Edwardsburg High School, towers in as the Bombers' tallest player on the 2013 roster. As 6'8" power pitcher, the freshman was named the number four newcomer to the Mid-American Conference. As a senior, Slack compiled an 11-1 record with a 0.57 ERA. He fanned 105 batters while walking just nine over 61 innings of work. His body of work earned him All-State, Conference, District, and Region honors. During his junior campaign, Slack went 6-1 with a 0.67 ERA while striking out 58 in just under 50 innings.
In high school, Slack was considered a dual threat baseball player and a multi-sport athlete. The pitcher hit .304 his senior year with three home runs and 24 RBIs. Slack was also a talented basketball player for Edwardsburg High School. Here, Slack's determination and work ethic shine through. Twice he earned the basketball team's Most Improved Player award.
Slack has already started five games as a freshman for Toledo. So far, opponents are hitting just .222 off of the righty.
David Stagg: 6'3" – 220lb, B/R-T/L, LHP, Heartland CC (So.), West Des Moines, IA
Stagg, a graduate of West Des Moines Valley High School, had a breakout freshmen season at Heartland Community College. During the 2012 season, he earned Division II Pitcher of the Week honors with his performance against #18 Lincoln College. He helped his team to a 13-0 win by dealing out six shutout innings, giving up just two hits and two walks. Overall he finished the 2012 collegiate season with a 3.03 ERA compiling a 3-1 record. During the 2012 summer, Stagg received All-League honors playing for Albany in the Perfect Game League in finishing with a 5-3 record and a 3.08 ERA while leading the league in strikeouts with 61. He was also named Pitcher of the Week during the 4th week of the season.
Stagg throws a steady low 90's fastball while still possessing good arm speed on his changeup. Stagg has started his sophomore season well with two wins under his belt and a 1.38 ERA. In the 13 innings he has pitched this season he has only allowed 8 hits and 2 runs racking up 18 strikeouts.