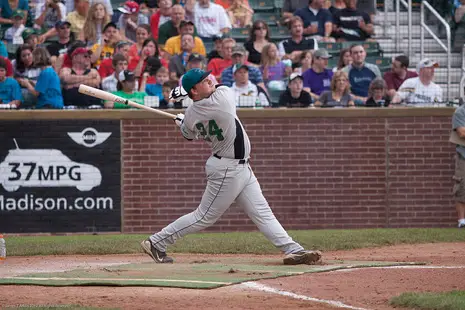 MADISON, Wis. (July 24, 2012) — The 2012 Northwoods League Home Run Derby presented by the Dane County Regional Airport saw plenty of baseballs leave Warner Park on Tuesday night. While The Baseball Project entertained fans behind the plate, the derby contestants showed their power.
Rochester's Trevor Podratz (Hawaii) crushed 23 home runs total to win the derby. Podratz wowed fans with his raw power, which he showcased as he launched multiple pitches completely out of Warner Park in left field.
Podratz hit nine in the first round, four in the second and ten in the final round. He beat out Eau Claire's Casey Gillaspie (Wichita State) in the final round who hit six home runs and 14 total.
Eight Northwoods League All-Stars went head-to-head to compete in the Home Run Derby prior to the All-Star Game.
In the first round, the four players were eliminated that included Michael Suiter (Huskies) with four homeruns, Richard Prigatano (Loggers) and John Michael Twichell (MoonDogs) with three homeruns, and Tyler Marincov (Mallards), with two.
In the second round, Kevin Kaczmarski (Bucks) and Alex Bacon (Rafters) gained an additional homer to reach with six blasts each. The impressive feat was not enough though, as both of them would be eliminated.
In the finals, Casey Gillaspie (Express) powered six extra home runs to accumulate a total of 14, but it was not enough to beat out Podratz's incredible strength at the plate.