Five exciting cold-weather players
http://espn.go.com/college-sports/story/_/id/12467308/five-most-exciting-cold-weather-players
Prove It Or Lose It Weekend
Editor's note: Each week during the regular season, ESPN.com is teaming up with our friends atD1Baseball.com to provide "The Fives," a look at five teams or players in a specific category.
It's been a frustrating late winter for a college baseball writer in the Great Lakes region, watching colleagues enjoy the sun in Arizona and Florida while going slightly stir-crazy as the stadium down the road remains covered in snow. Even schools in Kentucky, North Carolina and Tennessee are abandoning their homes for warmer weather. When the weather's such that you can't take the trash out without a fur coat and crampons, and you've abandoned the local supermarket in favor of hunting wooly mammoth with spears, it's tough to play baseball outside, particularly on a grass field.
But in the past couple weeks, the snow has melted to the point where you can see, well, not grass exactly, but patches of mud where grass might grow by May or so, and baseball is back on.
The Mid-Atlantic and Midwestern regions of the country don't have the concentration of elite teams and players that exist in other parts of the country, but there's more talent up here than most people think. Here are the five most exciting players who play in cities that have just thawed out.
OF Ian Happ, Cincinnati
Happ has to be on any list of top cold-weather talent, but I just profiled him earlier this week, so I won't go into detail here. Except to say this: some of the best second basemen in Major League Baseball are just a little short on power to play an outfield corner and half a step too slow to play shortstop, but are smart, versatile athletes who can all hit. And if you look at Chase Utley, Jason Kipnis, Ian Kinsler, Jed Lowrie and Dustin Pedroia, you'll notice that most of them played elsewhere in college before moving to second in the pros. I certainly won't guarantee that Happ is as good as those guys, particularly Utley and Pedroia, but he is of the same species of ballplayer.
LHP Tyler Jay, Illinois
Illinois just re-opened its home field for the season this week, and if you go to Champaign, Ill., this weekend, you could see two very rare things: First, you could see a lefthander who can throw both two above-average off-speed pitches and a 95-mph fastball. Second, you could watch Tyler Jay allow an earned run, which he hasn't done in a game situation since May 17 of last year, when he took the loss in Illinois' regular-season finale. Since then, between the Big Ten tournament, a summer with the national team and nine appearances in 2015, Jay has been untouched. So far in 2015, he's struck out 23 batters in 20 1/3 innings, while allowing only 12 baserunners. Going out of your way to see a relief pitcher can be hit-or-miss, but Jay is one of the few anywhere in the country who's worth it.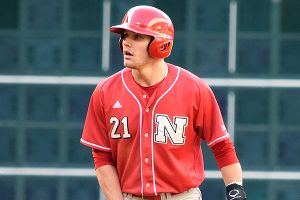 Kendall Rogers/D1Baseball.com
Nebraska centerfielder Ryan Boldt is just getting warmed up at the plate.
OF Ryan Boldt, Nebraska – Rochester Honkers
After being held to only one hit in the Houston College Classic last weekend, Boldt has answered the question of "I don't know, can he hit .500 over a full season?" with a no. And that's fine, because Boldt's still hitting .360/.450/.440 and is only getting better. The former 22nd-round pick still has the potential to unlock some power from his 6-foot-2 frame, without losing the athleticism he exhibited in his center field defense and his 14 stolen bases in 15 attempts last summer in the Northwoods League. Being the best player on one of the best teams in the Big Ten is worthy of notice on its own, but the most exciting thing with Boldt is the feeling that more and better is yet to come.
OF Logan Sowers, Indiana
Before the season, Indiana coach Chris Lemonis singled Sowers out as a potential star, and so far, the freshman has made good on his coach's prediction. Sowers has been named the Big Ten's freshman of the week twice in a row now, and in last weekend's Snowbird Classic, he recorded a hit in each of Indiana's four wins, including his first career home run. The freshman is now hitting .340/.377/.500, with a team-high four stolen bases, without having been caught once. Sowers is still a little raw, but you'll make allowances for that when you're dealing with a 19-year-old who's already 6-foot-4, 212 pounds.
C/INF Paul DeJong, Illinois State – Wisconsin Woodchucks
Going off the Big Ten board a little, we find Paul DeJong, who was instrumental in the Cardinals jumping out to a 10-0 lead on Vanderbilt two Sundays ago (the Commodores came back to score 16 unanswered runs and win that game, because sometimes stabbing the giant only makes it angry), and is hitting .333/.443/.686 on the season. Why single out DeJong? Well, first of all, versatility is fun, particularly when that versatility includes two infield positions and some time behind the plate. DeJong is also one of a rare few who leads his team in both home runs (five in 13 games) and HBP (four, when nobody else on his team has been hit more than once). DeJong's got a little bit of something for everyone.