Mankato, Minn- With the season rapidly approaching, the Mankato MoonDogs baseball team officially announces its 2022 coaching staff
The MoonDogs welcome back Field Manager Matt Wollenzin, who will begin his 8th season with the team. The MoonDogs also welcome in Pitching coach Tanner Cuhna and Hitting coach Danny Kneeland, both entering their first season with the club.
Matt Wollenzin – Field Manager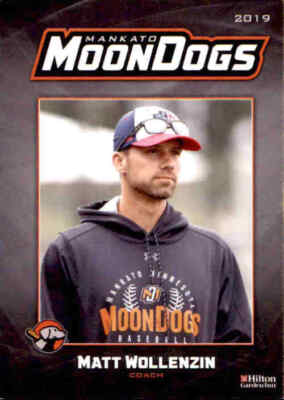 Matt Wollenzin is entering his eighth season on the MoonDogs coaching staff and fourth as the team's field manager. Over his first three seasons as manager of the MoonDogs, Wollenzin has coached the team to a 96-84 mark. Wollenzin, a 2013 all-star catcher for the MoonDogs out of Austin Peay, served under Ryan Kragh as an assistant hitting coach from 2015-2018. "Wolly", as he is known in Mankato, began his collegiate coaching career in 2016 at the University of Evansville for the Purple Aces before uniting with Kragh to coach at Bethany Lutheran College in Mankato for the 2018 season. A native of Lakewood, Colo., he is the Mankato MoonDogs eighth field manager in the organization's history and one of the longest-tenured personnel in the program's history, having been around since his playing days in 2013.
Danny Kneeland- Hitting Coach
Daniel Kneeland (Danny) joins the MoonDogs coaching staff as the Hitting and Assistant Baseball Coach. Danny might be new to the Moondogs but not to the Mankato area as, a former player at Bethany Lutheran College and an assistant baseball coach since 17′. In his four years coaching at Bethany, he helped lead the team to their first UMAC regular-season title and qualified the team to their first-ever NCAA Regional Tournament in 2018. Danny is very excited to join the staff and can't wait for a great season with the MoonDogs.
Tanner Cunha-  Pitching Coach
Tanner Cunha will be joining the MoonDogs as an Assistant and serving as the Pitching Coach for the 2022 Season. Tanner is a native of Sacramento, California, and was formerly a pitcher at Nevada University in 2020 and 2o21. Cuhna is currently in the undergraduate program at Nevada majoring in Human Development and Family Studies. Tanner is thrilled to join the staff and can't wait to attack the zone all season!
The 21st season of MoonDogs baseball begins with the Duluth Huskies coming to Mankato on May 30th at ISG Field.