By Kevin Haas
This article originally published in the Rock River Current
LOVES PARK — Framed photos of packed stadiums in Appleton, Wisconsin, and Joliet hang to the walls inside Steve Malliet's new office at Rivets Stadium.
They're mementos of a baseball life, one that has moved Malliet across the country to run minor league baseball teams from the Midwest to Myrtle Beach. He has helped revive floundering teams, chaperoned the debut of four new stadiums and guided the creation of new minor league franchises.
Now, a nearly three-decade career in baseball has landed Malliet in Loves Park, where he hopes to turn the Rockford Rivets ballpark into a destination for family fun whether you like baseball or not.
"The entertainment is really number one," said Malliet, the Rivets new president and general manager. "Baseball is important, but it's only a small part of the total entertainment we do here."
New owners David Casey and Todd Kolosso took over the Rivets about two weeks ago, purchasing the team from Dick Radatz Jr. and Chad Bauer. Bauer remains with the team. Casey and Kolosso also own the Lakeshore Chinooks of Mequon, Wisconsin, which competes in the Northwoods League with the Rivets.
They turned to Malliet to serve as the team's president because of his track record with numerous minor and major league teams, including a stint in sales with the Milwaukee Brewers.
"Success just kind of follows Steve. He's obviously a proven leader and knows exactly how to run these kind of franchises from the top down," Casey said in a phone interview. "Having a guy like that to help us build this franchise back to where it should be is a blessing for us."
The Rivets average attendance was 874 in 36 home games last season, according to the Northwoods League. That ranked 18th out of 21 teams. With a stadium that can fit more than 3,200, Casey and Kolosso think the Rivets can do more in the Rockford market.
"I have every confidence that we're going to be able to turn the franchise around and make it a really great franchise for the fans in Rockford," Casey said. "We want to provide a product that our fans love coming to."
Malliet has been on the job for about a week as he prepares for the May 29 opening day.
'Three-ring circus'
One of those pictures of brimming baseball stands in Malliet's office is from Route 66 Stadium in downtown Joliet. For the five years he was there, it averaged an attendance of roughly 4,500 despite seats for only 4,000. An overflow berm area allowed for hundreds more to attend.
"It routinely looked like that," Malliet said in his office Wednesday while gesturing to the photo. "Just packed."
Joliet benefits from being able to draw crowds from across suburban Chicagoland, but Malliet thinks the Rivets can draw numbers, too.
"We will get there," he said. "It's doing the right things every day that eventually gets you to that,"
For Malliet and the new owners, it starts with the experience in the stands. Think of it like a family picnic environment, Malliet says. He hopes to expand the kids play zone and fill the between-inning time with on-field promotions and activities. He plans to have a fireworks show for every Saturday game and quality giveaways for fans at the gates.
"You're going to see a lot more happening around the ballpark,"Malliet said. Fans will "leave the game that night not knowing what the score was, and the kids will be asking mom and dad, 'when are we coming back?'
"That's the ultimate: Not the fact that we won or lost. I love to win, too, but that's not what we're all about. We're about the entertainment and the fun."
An umpire at one of those packed Joliet games told Malliet it was like a "three-ring circus" between innings. The official meant it as a critique, Malliet said, but it's exactly the environment he sets out to create.
He even plans to have a master of ceremonies leading the fans through fun. In Kenosha, one of his previous baseball stops, comedian and entertainer Marz Timms did the job. Fans of the Rockford IceHogs may recognize Timms for his on-ice emcee role at the downtown Rockford BMO Center.
"You can come here and probably only watch an inning or two, but you've been here for three hours and you've had a great time," Malliet said. "So when the umpire tells me it's a three-ring circus, that's what I want to hear."
Baseball history
Malliet grew up in Appleton, Wisconsin, where his love for baseball was fostered watching the Appleton Foxes compete in the Midwest League.
The former collegiate pitcher at Taylor University in Indiana returned to Appleton after college to work for the team. After one year on the job, he got the role of general manager and eventually saw through the team's transition to the Wisconsin Timber Rattlers. His shortstop at the time was future New York Yankees great Alex Rodriguez.
"I had pretty much lived at the ballpark and done my part to open some eyes," he said.
He went from there to working as a corporate sales manager for the Brewers as they were building Miller Park. Then he got recruited by the Durham Bulls, the minor league team made famous by the 1988 Kevin Costner movie "Bull Durham." Malliet was in charge when the single A Durham team moved to Myrtle Beach, where a new stadium was built and the team was renamed the Pelicans.
Future stops would include Joliet, St. Louis, Normal and Lansing, Michigan, where he arrived shortly after the onset of the coronavirus pandemic.
He moved closer to home as the president of Big Top Baseball and Entertainment in Kenosha before taking this role.
"Every stop that I've made, it's been a great education," he said.
Malliet said he appreciates Rockford's deep baseball history, too. From the World War II-era Rockford Peaches women's baseball team to the minor league affiliates of the Cubbies, Reds and Expos that competed at Marinelli Field on 15th Avenue in south Rockford.
He hopes to host events to pay homage to the city's baseball history, including a potential Rockford Peaches night.
"I don't know if we could convince our players to wear the uniform they wore, but we could certainly have some fun with that," he said.
Rivets Stadium, 4503 Interstate Blvd., opened in 2006 as the initial home to the Rockford Riverhawks in the Frontier League. It was then home to the Rockford Aviators before the Rivets took over in fall 2015. It's also the home field for Rockford University.
'Community driven'
The Rivets plan to keep the stadium busy all year round, even when the team isn't playing.
Malliet is working on a "legends" event with former Chicago Bears and Green Bay Packers players. He also wants to host youth tournaments and continue to have special events such as concerts and Oktoberfest.
"We want to have entertainment here constantly," he said. "Every weekend should be filled with things that are going on."
Mayor Greg Jury said he also heard the team float the possibility of a winter hockey game, and he said the Rivets will work with the Rockford Park District and Boys & Girls Club for youth sports events.
"They're going to make the entire community aware of what the Rivets can offer and what they will offer," Jury said. "I think they're going to make that Rivets Stadium get up to the potential that the stadium itself has, and they're really community driven."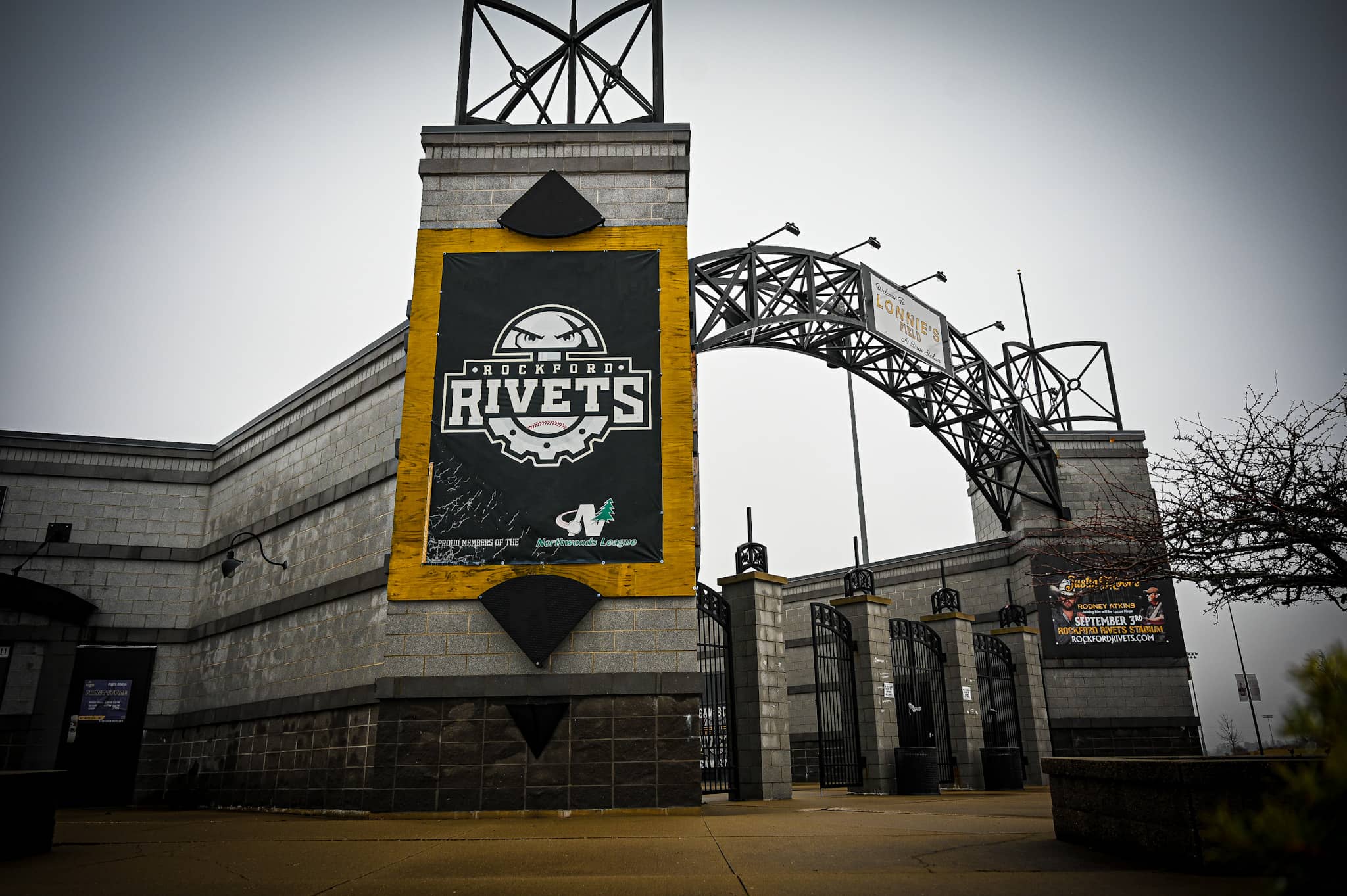 Malliet also wants to put a good product on the field. The Northwoods League, which is entering its 30th year, is a grueling wood-bat league for collegiate athletes who want to play pro baseball. They play 72 games, sometimes in as few as 75 days, Malliet said.
"This league isn't for everybody. It's for those individuals who want to play pro baseball," he said. "There's very few off days."
The team has not yet named its manager, but Malliet said that's coming soon.
"We want to make sure our team is competitive every year and that we're in contention for a playoff spot," he said.  "We all would like to win a championship, too. That's very important, and it's part of the overall entertainment we offer our fans.
"But the biggest goal is becoming a part of the community and having people take pride in the stadium and the team."
---
This article is by Kevin Haas. Email him at khaas@rockrivercurrent.com or follow him on Twitter at @KevinMHaas or Instagram @thekevinhaas.