Bucks Re-Sign Missouri Native
January 17, 2014
Waterloo, IA – The Waterloo Bucks have announced that right-handed pitcher/outfielder Gerrion Grim III (pronounced GARY-in) will return to Waterloo for his second season in 2014. Grim,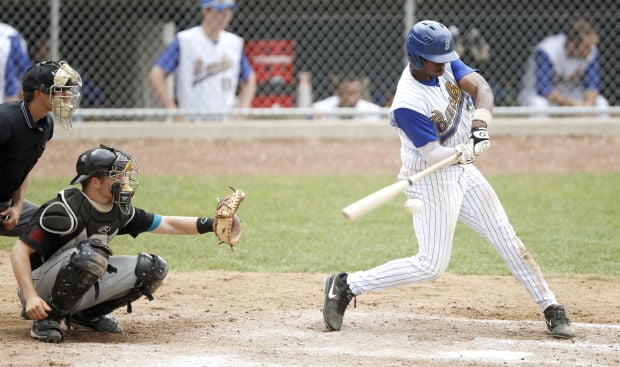 a redshirt freshman at Jefferson Community College in Hillsboro, Missouri, is the fourth player to be named to the Bucks' roster for the team's 20th season.
Last season for Waterloo, Grim appeared in 18 games on the mound, while totaling 43 at bats as a third baseman and outfielder. On the bump, the 6'1", 200-pounder finished with a 2-1 record and a 3.79 ERA, striking out 36 batters in 40.1 innings of work. As a batter, Grim hit .209 with five RBI and an on-base percentage of 370.
"Gerrion was a guy that didn't have the chance to play school ball last spring and really took advantage of the opportunities that he had this past summer to get better," said Bucks manager Travis Kiewiet. "Every time he took the mound he got better both mechanically and mentally. I'm excited to see what Gerrion brings this summer with a year of school ball under his belt."
A native of O'Fallon, Missouri, Grim transferred to Jefferson CC from the University of Missouri this past fall. Grim redshirted with the Tigers in 2013.
Grim played baseball at Fort Zumwalt South High School where he finished his senior year with a 2.90 ERA and 94 strikeouts. That season at the plate, Grim hit .423 with four home runs and 33 RBI. In 2012, Grim was named the St. Charles Male Athlete of the Year and was a St. Charles Amateur Athletic Hall of Fame selection. Born September 17, 1993, Gerrion is the son of Gerrion Grim Jr. and Cassandra Grim.
The Bucks will open the 2014 season on the road versus the Rochester Honkers on May 27, but return to Waterloo for their home opener versus Rochester on May 28. Season tickets and group outings are currently on sale. For more information, call the Bucks' Ticket Line at (319) 232-5633. Fans are encouraged to stay in touch with the Bucks in the off-season by utilizing their website at www.waterloobucks.com.
The Waterloo Bucks are a member of the finest developmental league for elite college baseball players, the Northwoods League. Playing its 21st season of summer collegiate baseball, the Northwoods League is the largest organized baseball league in the world with 18 teams, drawing significantly more fans, in a friendly ballpark experience, than any league of its kind. A valuable training ground for coaches, umpires and front office staff, more than 115 Northwoods League players have advanced to Major League Baseball, including MLB All-Stars Max Scherzer (DET), Chris Sale (CWS), Jordan Zimmermann (WAS), Curtis Granderson (NYY), Allen Craig (STL) and Ben Zobrist (TB). All league games are viewable live and free of charge via the Northwoods League YouTube channel. For more information, visit www.waterloobucks.com.
– 30 –