By Nick Erickson, Media Relations
"I think once everybody gets here, we should be pretty good."
That is the line Eau Claire Express Field Manager Dale Varsho repeatedly told everyone in a trying first half of the season that saw the Express finish in last place in the Northwoods League South Division.
Like he has proven for all nine years he has been at the helm of the ballclub, Varsho knew what he was talking about.
Once everyone he set out and recruited in the school year came into town, the Express took the Northwoods League and the city of Eau Claire by storm and had an improbable hot streak that nearly saw them pull off the unfathomable worst-to-first climb in the course of a single season before falling just two games short of the second half championship.
The Express wound up at 33-37 overall, but 21-14 in the second half, the fifth best half record in franchise history. Even though the Express fell just shy of making the playoffs, it was still a heck of a ride.
"Unfortunately we came up short, but you know, we played well," infielder Blake Schmit said. "We stayed loose and took things one game at a time, and it was fun."
FIRST HALF
The year didn't quite start off in a fun way, however. It wasn't because the talent or effort wasn't there, but the Express were just a victim of unfortunate timing.
Some key guys weren't able to get to Eau Claire until mid-June due to school running or late or playing in the NCAA tournament. That led to players playing positions they weren't familiar with and pitchers hitting in the batting order. That kind of baseball can only get you so far, and Eau Claire stumbled to a 12-22 record.
That doesn't mean there weren't any highlights in that first half.
On June 6 on a rainy night for Breast Cancer Awareness night at Carson Park, the Express, donning bright pink uniforms for the night's occasion, went into the bottom of the ninth inning trailing 4-1 to the Green Bay Bullfrogs.
However, they got three in the bottom of the ninth inning to tie it, and then in the bottom of the 10th inning, Brian Sicher lined a single up the middle to score Chane Lynch from second base to win the game 5-4 for Eau Claire's first walk-off win of the year.
The very next night, Sicher and Lynch combined for more fireworks on, fittingly, the year's first Fireworks Friday. In the bottom of the third inning, Lynch, playing in just his second game of the year for Eau Claire, launched a grand slam to the opposite field to give Eau Claire a 4-1 lead over the same Green Bay Bullfrogs.
In the bottom of the fifth inning with Eau Claire down 6-4, Sicher belted a grand slam of his own to give Eau Claire a lead they would never relinquish in an 11-7 win.
On June 12 at Green Bay, Eau Claire pounded out 18 runs in a walloping of the Bullfrogs. Parker Zimmerman had five RBIs that night and Will Kenny pitched six strong innings to give them the sweep of Northwoods League Players of the Night honorees.
And finally, on June 14, Tim Zier homered in his very first pitch back in Eau Claire for the summer against the La Crosse Loggers. Eau Claire lost the game 4-2, but good things came of the game after a solid pitching performance and fairly timely hitting all night.
Tim Zier after home run No. 1 on the year. Photo by Kayla Menzie
Zier, who said he wasn't much of a home run hitter, said it was great to homer in his first at-bat of the season.
"I don't hit many home runs, so any time I get into one, it's a blessing," he said.
Varsho said that game gave him a sign of what was to come after everyone was slowly coming into town.
"You know, I like our offense," Varsho said. "Are we going to win more games? I hope so, but it comes down to pitching and if we get a performance like that, we should be pretty good."
Both of those quotes by Zier and Varsho, one ironic and one hopeful, turned out to be quite the pair of preludes heading into the second half of the season.
SECOND HALF
On July 4, the first day of the second half, the first words in the new chapter of the season were inked.
The Madison Mallards were in town for the first game of the second half the night after they clinched the first half title in La Crosse.
In front of the largest crowd at Carson Park on the year at 4,197 people strong, the Express offense backed up its Field Manager's promised by putting on an offensive clinic against the Mallards. Mike Porcaro and Sam Haggerty both homered in the 12-5 win, and Paul Voelker got the win on the mound in just his second start of the year. Suddenly, there was new life in the ballclub.
"We're a really good ball team," Voelker said after that game. "We're capable of beating anybody and it gives us a lot of confidence. I think we can really make a run at winning this second half."
The Express gave themselves quite a challenge before trying to live up to Voelker's words. They lost four in a row from July 8 to July 11 and started off the second half 3-5, treading in some dangerous waters and on the verge of drowning the entire 2013 season.
But the best thing about the game of baseball, and sports in general for that matter, is that things can turn around in a hurry.
Eau Claire became the poster team of that methodology, and from that 3-5 start, the team put the entire city on its back and nearly stunned the Northwoods League.
AN IMPROBABLE JOURNEY
On July 15, riding a 4-9 second half record and at home against the Battle Creek Bombers, the Express came into the game and belted out three home runs for a big win. Daniel Kihle had a grand slam, Zier homered and Lynch launched a moon shot to give Eau Claire a 14-6 win.
The very next night, the magic began.
Against those same Battle Creek Bombers, Eau Claire found themselves down 2-1 for most of the night. After tying it up in the bottom of the eighth inning, Eau Claire came to the plate in the ninth with the bottom of its order due up. After one out, newly acquired infielder Dalton Bowers got on with a single, setting up the number nine batter, Greg Harisis.
On a 3-1 pitch from Battle Creek's Kellen Urbon, Harisis shocked the Carson Park crowd by pulling an inside fastball way over the left-field fence for a walk-off, two-run bomb.
Harisis, who hit it in front of his family visiting from California, said it was a moment he'll never forget.
"It's probably the furthest ball I've ever hit, actually," Harisis said. "It was a pretty cool moment. Really special."
On that night, the magic flew up into the air along with Harisis' moon shot, and the Express were in serious business.
They would go on to win five of the next eight games leading to the 28th of July. But before we jump to that iconic game of July 28, let's take a step backwards to the 25th, where an absolutely historic occasion took place.
Behind eight incredible innings from Voelker, who became the ace-of-staff in the latter part of the season, and a huge two-run triple from All-Star Charlie White, the Express beat the Wisconsin Woodchucks 7-4. With the win, Field Manager Dale Varsho became the Northwoods League all-time winningest manager, collecting career win number 301 that night to surpass former Kenosha, Waterloo and Madison manager Darrell Handelsman.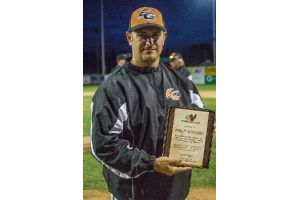 Field Manager Dale Varsho made history with his 301st career win on July 25.
Photo by Kayla Menzie
The crowd roared as closer Matt Trowbridge recorded the final out of the game, and Varsho was greeted to a nice water shower from his squad.
For Varsho, the night was a culmination of everything in his nine years of coaching.
"I've only taken this job to help players and develop players and try to make them better," Varsho said. "The record is something special, but it's really about the players."
His players were honored to be apart of the historic occasion.
"I personally asked to come back here, because, to be honest, he's always been my favorite coach," Zier said.
White added, "He's a great guy and he's a great coach. He's the ultimate player's coach and I'm really happy for him and its special to be apart of."
Also in that stretch before the 28th, the Express beat the Woodchucks 11-4 on the 27th and in that game, infielder Porcaro and pitcher Taylor Lehnert earned themselves the sweep of Northwoods League Players of the Night, the second time in 2013 Eau Claire had accomplished such a feat.
Now, we get to the 28th. Eau Claire was playing host to the Duluth Huskies, a team who is currently in the Northwoods League championship series.
The Express had stranded runners all night long and were headed to the bottom of the ninth down 3-2 in frustrating fashion.
Things looked gloomier when Duluth's All-Star closer, Nate Carter, came into close things off for the Huskies.
But Eau Claire battled, tying the game with two outs to go on a Tim Wise RBI single to plate Bowers. After Zier reached, it was Harisis' Santa Clara teammate, Jose Vizcaino Jr., who stepped in the batter's box.
On a 2-1 pitch, Vizcaino, who had already hit two moon shots on the year at Carson Park, swung at a fastball from Carter. With one hack of the bat, Vizcaino Jr. made Carson Park erupt, hitting a ball that reportedly landed in Chippewa Falls. In one of the longest home runs Carson Park will ever see, Vizcaino Jr.'s three-run, walk-off blast won it for Eau Claire and really showed people that this team was here to stay.
Vizcaino Jr. said that was his highlight of not only his season, but baseball career as well.
"I think you dream of moments like that and you do it in video games and watch MLB players do it," Vizcaino Jr. said. "At any level, that's a dream. But that's one I'll remember forever and, especially with these teammates, the best group of guys I could ask for."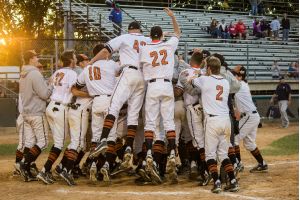 Two walk-off home runs in 2013 gave fans a lot of excitement. Photo by Kayla Menzie
Eau Claire had camaraderie and a belief to win in that second half.
From that point on, the Express went on to win seven of its next nine games to climb within a game of first place headed into the final weekend of the season.
In that stretch, Wise became hotter than any hitter in the Northwoods League. He had at least two hits in ten straight games at one point and raised his average from .238 to .323 in a span of less than a month.
He capped off his incredible run at the plate by crushing a grand slam in the first inning against the Thunder Bay Border Cats on August 1 in a 10-run first inning and ultimate 20-12 win. The 20 runs were second best in franchise history and the 20 RBI were a new record for the nine-year-old franchise. Speaking of records, in that stretch, Harisis tied a club record with six RBI in one game on August 3 at Wisconsin Rapids.
The Express fell just short of reaching the playoffs, falling to Duluth two games in a row at Wade Stadium in Duluth in what felt like playoff-type baseball already. The city rallied around the team, and it's something that Vizcaino Jr. said it was great coming to the ballpark everyday knowing people were behind them.
"It's so much more fun when you're winning and when you're hitting the ball well and pitching well," Vizcaino Jr. said. "I'm just grateful I got the opportunity to play here for the Express this summer."
Eau Claire wound up going 18-5 in the last 23 games of the year. Pretty remarkable for a team that was 12-22 in the first half.
THIS AND THAT:
The Express had many feats worth mentioning in 2013.
Relief pitcher Anthony Andres had wanted to play in the Northwoods League after both his freshman and sophomore years of college at Northern Illinois, but he was never granted a chance. He was signed in late June by Varsho, and what a sign it was.
From July 1 to August 2, Andres did allow a single run to come across and score. He went 26 innings scoreless on the mound and picked up three wins and a save in that time period.
"It's a great thing to see zeroes on the scoreboard and give your hitters a chance to get you runs and get you saves," Andres said. "It's an unbelievable thing for me to see zeroes up on that scoreboard I've pitched. It's been a dream come true."
Taylor Lehnert won six straight decisions on the mound at one point in the year to tie for second all-time in franchise history with seven wins on the mound.
Eau Claire had three members of the current team get offers from Major League Baseball with two of them singing. On June 8, the Atlanta Braves drafted Jared Dettman in the 17th round while the New York Yankees drafted Charlie White in the 29th round. Dettman signed while White stayed around in Eau Claire. The day after the Northwoods League All-Star Game at Carson Park, Eau Claire native Tyler Sparger signed a deal with the Seattle Mariners. Sparger and White both represented the Express at the All-Star Game.
Voelker, Trowbridge and Schmit were all selected to compete in the Big League Dreams Showcase by the Northwoods League on July 29 in Madison. The rosters were made by selections of Major League scouts, and the game featured the top 100 prospects in the league.
Voelker was also named to the Northwoods League Postseason All-Star roster after going 4-1 on the year with a team-leading 60 strikeouts.
Eau Claire hit six grand slams throughout the year, as Sicher, Lynch, Kihle, Harisis, Wise and Zier all connected with the bases loaded.
Zier, who hit one home run for the Express in 2012 and said after his first game he wasn't much of a power guy, wound up hitting seven to lead the ballclub.
Eleven players were chosen as Northwoods League Players of the Night. They were: Kenny, Zimmerman, Ed Brandsema, Voelker, Lehnert, Taylor Duree, Porcaro, Vizcaino Jr., Jake Cole, Zier and Peter Hendron.
Eau Claire was also third in the league in attendance, averaging 1,955 fans through the 35 openings of Carson Park.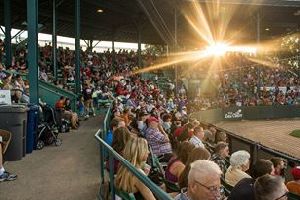 A grand total of 68,430 fans packed Carson Park in 2013, including 4,197 on the Fourth of July.
Photo by Kayla Menzie
THAT'S A WRAP
Sometimes, the biggest battle is gelling as a team. The 2013 Eau Claire Express conquered that battle right away and particularly late in the year as they made their improbable run.
"They were a great group of guys and I really enjoyed them," Zier said. "We all get along well and it just makes the game fun."
Vizcaino added, "Being from California, I didn't know what to expect. But it definitely exceeded my expectations. I was able to make a lot of good relationships with the fans, my family and of definitely other teammates and coaches."
Varsho has always said he looks for young men with high character to come play for him in the summer. He said this year's batch fit the mold.
"They kept on coming to the ballpark wanting to play, wanting to get better and that's kind of what it's about," Varsho said. "We had great character guys. We had guys who loved coming to the ballpark and putting in extra time and extra work."
And if we've learned anything from this season, it's that the Northwoods League's all-time winningest manager knows what he's talking about.
Until 2014, All Aboard.