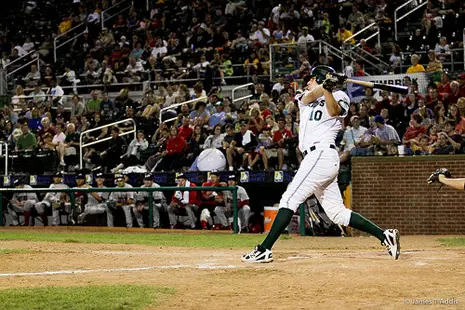 ROCHESTER, Minn. (June 14, 2012) – One game did not start and two were suspended until Friday due to storms that swept across the Midwest on Thursday night.
The Eau Claire Express and La Crosse Loggers will play two seven-inning games beginning at 5:05 p.m. on Friday. The two suspended games in Mankato and Rochester will resume at 6:05 p.m. on Friday with a seven-inning game following the completion of the suspended game.
Green Bay 3, Lakeshore 1
The Bullfrogs scored two in the top of the tenth on a couple of Lakeshore defensive miscues to take the lead and win, 3-1. The Bullfrogs and Chinooks will continue the series on Friday in Lakeshore with a start time scheduled for 7:05 p.m.
Alexandria 7, Waterloo 11
The Bucks were led by Sean Borman (St. Cloud State) who was 3-for-5 two RBI, three runs scored and a solo home run. The Bucks and Beetles will play each other again on Friday with the first pitch scheduled for 6:35 p.m. in Waterloo.
Thunder Bay 2, Willmar 3
The Stingers were led by starting pitcher Kyle Fischer (St. Cloud State) who threw 7.1 innings and allowed two runs and struck out eight. The Border Cats and Stingers will face off again at 7:05 p.m. in Willmar.
Wisconsin Rapids 5, Wisconsin 3 (7 innings)
In a game that finished after seven innings due to weather, Pat Kelly (Nebraska) would drive in two runs for the Rafters which was the difference in this one. These two teams will square off again on Friday in Wisconsin Rapids, Wis. for a 7:05 p.m. start.
Battle Creek 3, Madison 5
The Mallards were led by Tyler Marincov (North Florida) who went 3-for-5 and scored a run. Marincov was also responsible for driving in three of Madison's five runs. The Mallards will host the Bombers again on Friday for a 7:05 p.m. scheduled first pitch.