Former Logger Jackson Made MLB Debut
August 6, 2012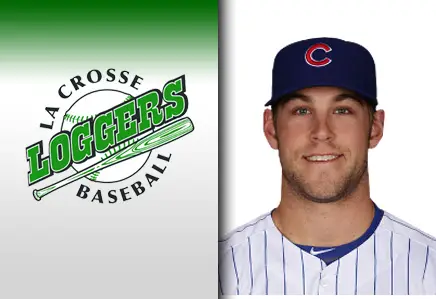 LOS ANGELES (August 6, 2012) — Former La Crosse Loggers outfielder Brett Jackson made his first Major League Baseball start Sunday for the Chicago Cubs. Jackson, ranked as the Cubs' top prospect, was called up and put into the second spot of the lineup for Chicago's Sunday game against the Los Angeles Dodgers.
The Berkeley, Calif. native was called up from Triple-A Iowa where he hit .256 with 15 home runs, 22 doubles and 12 triples in 106 games. Although the number of times he has struck out has been a concern, the number of times he has fanned has improved over the course of 2012. The 24-year-old improved to 36 strikeouts in July from 50 in June. He went 2-for-4 with a pair of singles and a run scored in his debut for the Cubs on Sunday.
Jackson played with La Crosse in 2007. He hit .343 with the Loggers in 176 at-bats as a true freshman. The following spring he hit .307 with four home runs and 40 RBIs for the University of California-Berkeley. The Cubs drafted Jackson in the first round of the talented 2009 Major League Baseball Draft.
Jackson becomes the sixth former La Crosse Logger member to play in the Major Leagues, joining current major leaguers like Detroit Tigers' pitcher Max Scherzer and White Sox pitcher Chris Sale. Jackson is the 94th Northwoods League alum to make it to the big leagues and the 42nd to appear in a game in 2012.
The Northwoods League has more teams, plays more games, and draws more fans than any other Summer Collegiate Baseball League in North America. The League has 16 teams in Wisconsin, Minnesota, Iowa, Michigan, and Ontario.