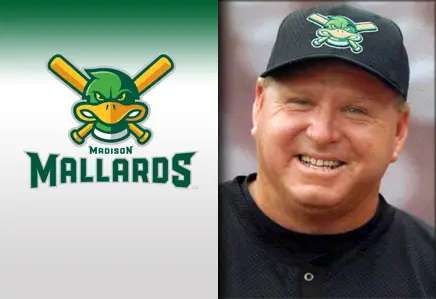 MADISON, Wis. (August 26, 2012) — The Madison Mallards announced the hire of Donnie Scott as Field Manager. Scott most recently won the 2011 Northwoods League Championship with the Battle Creek Bombers. He guided the Bombers to a 43-26 record while winning both the Northwoods League South Division First and Second Half Championships. Scott was named the 2011 Northwoods League Manager of the Year. 
Statement from Mallards Owner Steve Schmitt, President Vern Stenman and General Manager Conor Caloia:
"We are excited to welcome Donnie and his wife Debbie to the Mallards family. From the moment we decided to make a change, Donnie was our first choice. It took one phone call and we found the right guy for the organization. Donnie is a proven winner who has a special talent for developing college aged players. We are confident Mallards fans will love his energy and the type of team he puts on the field."
"I would like to thank team Owner Steve Schmitt, President Vern Stenman and General Manager Conor Caloia for this tremendous opportunity to manage the Madison Mallards of the Northwoods League," Scott said. "It is very exciting to know I will be managing in such a great atmosphere in which the Mallards and their fans have created. It is a class organization and I am really looking forward to being a part of it."
Scott was a second round selection of the Texas Rangers in the 1979 amateur draft.  He spent parts of four seasons in the major leagues with the Texas Rangers, Seattle Mariners and the Cincinnati Reds between 1983 and 1991. After retiring in 1991, Scott accepted a coaching position in the Reds organization that led to roles as a Manager, Field Coordinator, Catching Coordinator and Instructor over 17 seasons. 
Scott spent five seasons with Rookie level Billings (Montana), where he guided the Mustangs to four league championships. He returned to managing the Gulf Coast (Rookie) Reds after spending three seasons as Field Coordinator. He went on to have two tenures with Class A Dayton (Ohio), where he led the Dragons to the playoffs four out of five seasons.
In between his stints with the Dragons, Scott managed one season at High A Sarasota (Florida). Scott was named Manager of the Year in the Pioneer League in 1992 and Minor League Manager of the Year by Baseball Weekly in 1994. Scott has also managed two Midwest League All-Star games and has a career record of 689-569 (.548) in the minor leagues. 
Scott, 51, resides with his wife Debbie in Pinellas Park, Fla. and has two children, son David and daughter Dana. He currently works as a private instructor at ProBound Baseball Academy in Clearwater, Florida. He replaces Greg Labbe whose contract was not renewed after two seasons with the Mallards. The Mallards will be hosting a VIP event to welcome Donnie Scott on Saturday, September 22, 2012 at 4:30 pm at the Duck Pond. For more information stay tuned to www.mallardsbaseball.com. 
The Madison Mallards are part of the 16-team Northwoods League. The Northwoods League has more teams, plays more games, and draws more fans than any other Summer Collegiate Baseball League in North America.