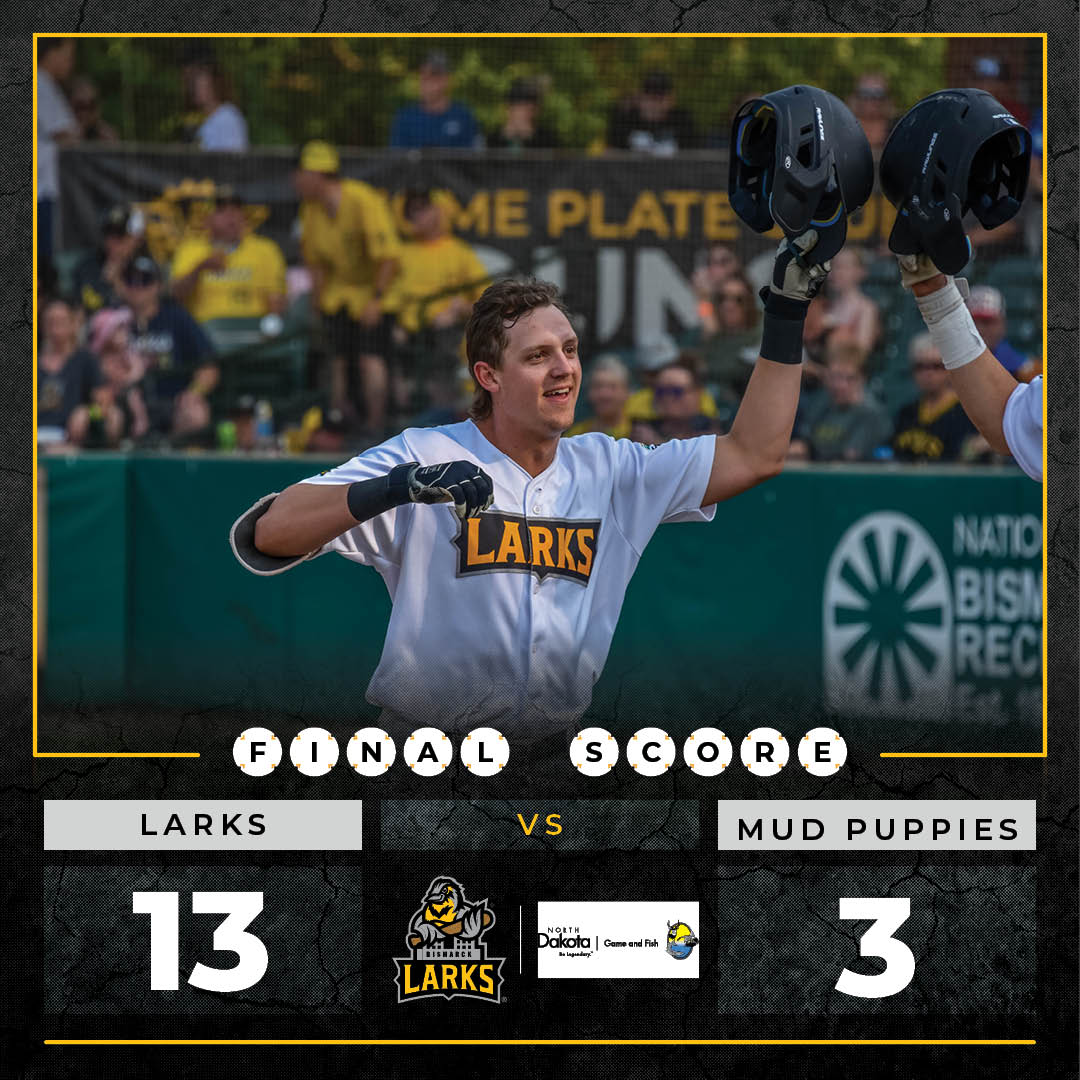 After falling in game three of the series, the Bismarck Larks were able to spoil the finale of the four-game set against the Mud Puppies. The Larks scored in six of the eight innings they appeared at the plate to rout the Mud Puppies. The final score was 13-3.
In the first, Larks first basemen Luc Stuka (California State Northridge) welcomed himself to Bismarck in a loud way, hitting a three-run homer for his first hit as a Lark, making it 3-0. For the first time all series, the Larks would score before the Mud Puppies. Stuka's home run would go down as the Fetzer Electric Play of the Game.
The Larks would keep the offense going in the second. Jackson Beaman (Mizzou) hit an RBI single with two outs to extend the Larks' lead to 4-0. Then, in the third, Brayden Koenig (Cumberland) secured his first extra-base hit of the year with an RBI double to score Dylan Perry (Monmouth), making it 5-0. 
In the fourth, the Larks explode for four. Kai Hori (New Orleans) started the hit parade with a one-out two-bagger, and he would come around to score on a Stuka base hit. After Trenton Rowan (Seward County) hit into an RBI fielder's choice and Luke Hammond (Xavier) singled, Perry scored both of them with a two-RBI double to blow it open and make it 9-0. The Larks would tack on three more in the fifth, after Rowan stepped up with the bags juiced and cleared the bases thanks to an error by the Minnesota left fielder. It was 12-0 heading to the sixth.
The Mud Puppies would score in the sixth, seventh, and eighth, thanks to RBIs from Carson Hake (North Dakota State), AJ Carter (San Mateo), and Chayton Fischer (Minnesota State Mankato). Still, it wouldn't be close to enough, as Dylan Perry pushed the lead back to ten thanks to his first home run of the year. The Larks would win 13-3 and move back to .500 at 8-8.
On the bump, Alec Danen (Viterbo) looked phenomenal once again, getting his third win in three starts; he is now tied for the NWL lead. He went 6.2 innings, giving up just 2 earned runs on 4 hits. He struck out six. Ethan Sannes (Augustana) picked up the loss. In the ninth, Ryan Bourassa shut the door, striking out the side and throwing the last pitch of the game at 96 mph, which was good for the Metro Area Fastest Pitch of the Game.
The Larks have a day off Wednesday before hitting the road to Willamr to face the first-place Stingers, who swept them earlier in the year. They then will go to St. Cloud to face the Rox. The four-game road trip starts on Thursday night at 7:05 p.m. CT.