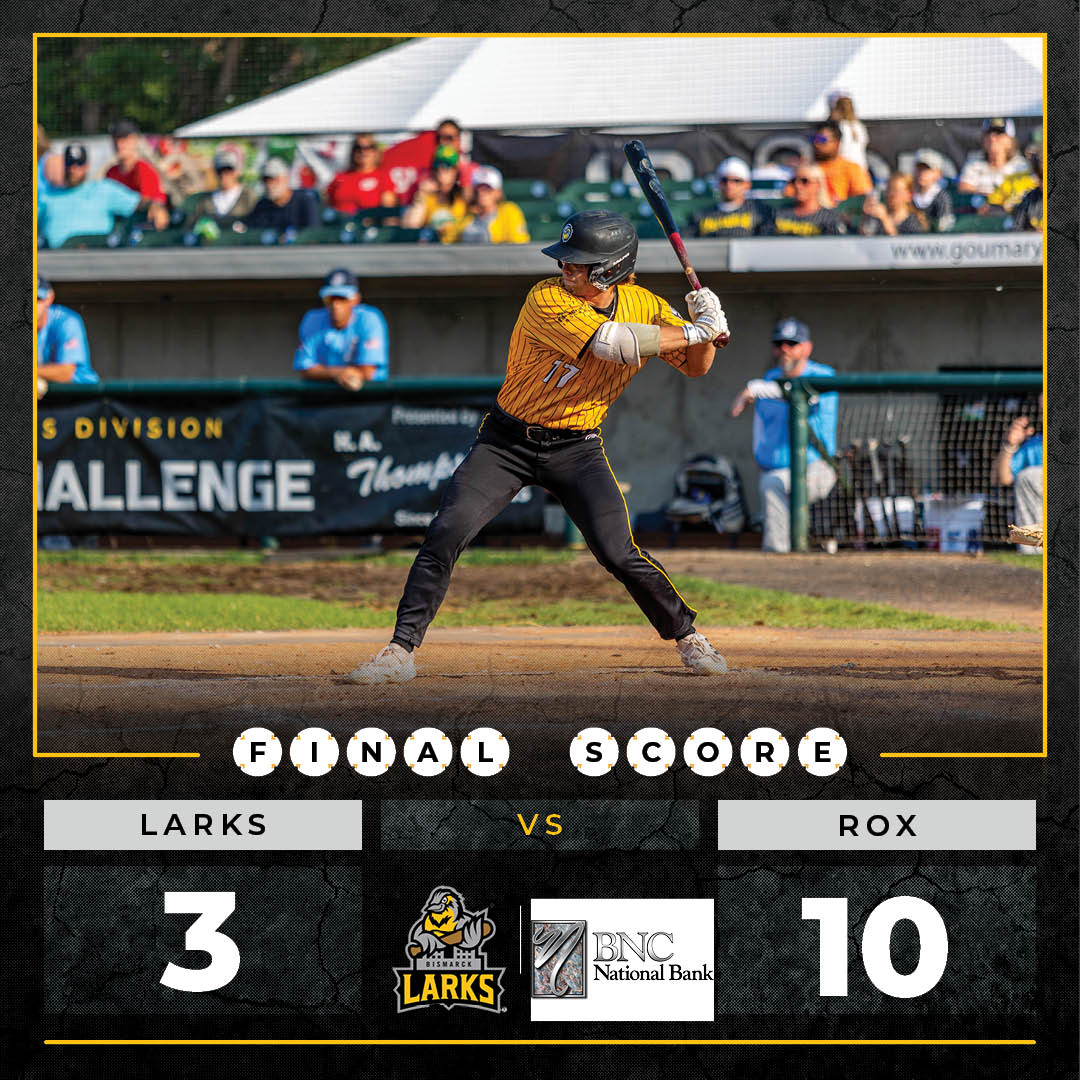 After coming off of a three-run loss on Saturday in the series opener, the Bismarck Larks returned to Bismarck Municipal Ballpark for one final game of the homestand and looked to even the series against the St. Cloud Rox. However, the Rox had other plans, taking the series finale in dominating fashion and sweeping the yellow birds.
The Rox got the offense going in the second inning. Matt Goetzmann (Nebraska Omaha) came into score on a passed ball to open the scoring. Then, in the fourth, St. Could tacked on two more. Jackson Hauge (Minnesota State Mankato) hit his third homer of the season to make it 2-0. Later in the inning, Sawyer Smith (St. Cloud State) scored Anthony Mata (UC Riverside) on an RBI single to extend the lead to 3-0.
After scoring in the fifth, St. Cloud put up its biggest inning in the sixth. Matt Goetzmann struck again, this time for a two-RBI double. Then, with two gone, John Nett (Kansas) knocked in two with a single. The Larks would score in the bottom half, but the Bismarck still trailed 8-1.
St. Cloud scored two more runs to make it ten for the night. Bismarck would try for a miraculous comeback, with extra-base hits from Benjamin Rosengard (Rice) and Luke Boykin (Georgia), but the Larks would only scratch one run across and leave the bases loaded for the third time, falling to the Rox and dropping their fourth straight game.
On the mound for St. Cloud, Bray Posch (Tarleton State) picked up his first win of relief, but the real story was lefthander Evan Esch's (St. Thomas) four-inning save, where he struck out seven and held the Larks to just three runs. Jackson Chancey (Wallance CC – Dothan) got the lass in his first career Northwoods League start.
In relief, Justin Goldstein (Middle Tennessee State) threw the Metro Area Fastest Pitch of the Game in the seventh inning, hitting 91 mph on the radar gun.
The Fetzer Electric Play of the Game came in the top of the fifth, where Nick Oakley (UC Santa Barbara) made an incredible diving catch behind the mound to end the inning and save a couple of runs.
The Larks are now 2-4 in the second half and will begin a four-game road trip that features a two-game series in Rochester, a double-header in Mankato, a two-game set in Eau Claire, and the first of a new two-game series of the Dakota Dust-up Rivalry against the Minot Hot Tots. First pitch Monday against the Honkers is at 6:35 p.m. CT.