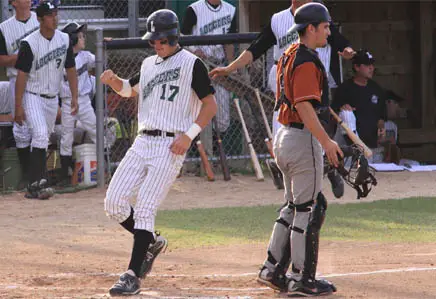 Duluth 9, Rochester 5
The Duluth Huskies beat the Rochester Honkers by a score of 9-5 at Mayo Field on Tuesday night. The Huskies used a three run third inning and four in the fifth to take an 8-0 lead and never looked back. Austin Gaines led the Huskies at the plate with a 3-for-4 day with three runs scored and three RBI. The Honkers Davy Wright (TCU) was 3-for-4 in the loss with two RBI.
Alexandria 4, Thunder Bay 3
The Alexandria Beetles found themselves down 2-0 after four innings of play, but put up four runs to take the game 4-3 in walk-off fashion. The Beetles lead-off hitter Mikel Alvarez (Florida Gulf Coast) was3-for-4 with one run scored. Relieve Wes Rich (Montevallo) recorded only one out, but earned the win. The Border Cats Tanner Nivins (Stony Brook) was 2-for-5 with a home run in the loss.
Eau Claire 9, La Crosse 8
The Eau Claire Express used twelve hits and a few Logger miscues to beat La Crosse 9-8 on Tuesday night. The Express has four players with multi-hit games. Designated hitter Logan Vick (Baylor) led the way with a 2-for-3 day with two runs scored. Express starter Matthew McDaniel (San Diego State) threw 6.0 innings while improving his record to 4-2. Chris O'Dowd (Dartmouth) homered again tonight and drove in three runs.
Willmar 5, St. Cloud 2
Jordan Smith (St. Cloud State) drove in two runs in the seventh inning to help beat the St. Cloud River Bats 5-2 in Willmar. Smith was 1-for-4 with one run scored and two RBI while Isaac Ballou (Marshall) had two hits in the win. The Stingers pitching staff only gave up six hits and two runs while striking out six St. Cloud batters. River Bat Jason Van Skike (Indiana State) took the loss while giving up three earned runs through 6.2 innings.
Green Bay 7, Waterloo 6
Green Bay was out-hit by the Waterloo Bucks 12-8, but took the game 7-6 in front of 1,108 fans. The Bullfrog bullpen threw 2.2 innings of scoreless baseball in relief of starter Riley Tincher (Wisconsin Whitewater). Bullfrog Tom Barry (San Francisco) was 2-for-5 with two runs scored, two RBI and a home run. Bucks Robbie Rieger (Santa Clara) was 3-for-5 with three RBI in the loss.
Madison 5, Wisconsin Rapids 2
Madison scored five runs in the fifth inning to beat the Wisconsin Rapids Rafters by a score of 5-2. Madison's Kyle Gaedele (Valparaiso) was 3-for-5 while Lucas LeBlanc (Delgado CC) was 2-for-4 with three RBI. The Mallard staff only gave up two earned runs on seven hits while striking out seven in the win.
Brainerd 4, Mankato 2
Brainerd was down 2-0 after six innings, but put up a four spot in the seventh to take the game 4-2 at Franklin Rogers Park. The Lunkers used a great game from lead-off hitter Stephen Wickens (Florida Gulf Coast) who was 2-for-5 with one run scored and two RBI. Sam Lind homered for the second straight night during a 2-for-4 night. Nick Anderson (St. Cloud State) and Ian Horkley (Davidson) combined to throw a four hitter while striking out 14 MoonDog batters.
Wisconsin 6, Battle Creek 3
The Wisconsin Woodchucks completed a two-game sweep of the Battle Creek Bombers with a 6-3 win. The Woodchucks used a three-run home run from Brandon King (Oral Roberts) to take a 3-0 lead. The 2010 All-Star was 2-for-3 on the night with two runs scored and three RBI. Woodchuck starter Chris Licon earned the win throwing 8.0 innings of eight hit baseball. He gave up three runs while striking out five and improving his record to 3-2.