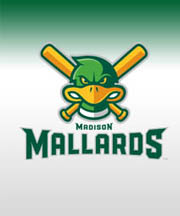 The Madison Mallards of the Northwoods League will be holding a special event on Saturday, February 26, 2011 to unveil the new Mallards logo and mascot, break ground on the stadium renovation and announce an addition to the renovations. The Mallards will be holding a public event at the Warner Park Community Recreation Center from noon until 2 p.m.
The logo will be unveiled at 12:30 p.m. followed by ground breaking at 1 p.m. Madison Mayor Dave Cieslewicz, Mallards Owner Steve Schmitt and Madison Parks Division Superintendent Kevin Briski will be present for the ground breaking joined by representatives from the Mallards Founding Partners and Maynard G. Mallard.
Plans for a new roof structure will also be shared to the public for the first time.
Ballpark food, hot chocolate and soda will be served from noon until 2 p.m. at the Community Center. The Mallards will also unveil 2011 team jerseys, new inflatables and have merchandise featuring the new logo for sale. Every fan in attendance will receive a small commemorative item featuring the Mallards new logo.
The Mallards will also be hosting a logo unveiling and fan appreciation event at the Downtown Great Dane from 4 p.m. to 6 p.m. on this day. The first 200 fans in attendance will receive a Mallards pint glass featuring the new logo and a free drink token. The Mallards will have the new logo on display and merchandise for sale.
This is a year of change and the Mallards are thrilled to share all of the excitement with their loyal fans.
For more information on the event please visit www.mallardsbaseball.com.